Automatic one for one mask machine
Time:2020-10-19 14:21 Author:Suny Group
The automatic mask machine adopts automatic correction, automatic tension device, anti-scratch, anti-static treatment, and the feeding process is uniform, which improves the smoothness and cleanliness of the incision and is more energy-saving.
The cut and cross-cut fabric has no burrs, is neat and has no deviation, and the width is adjustable.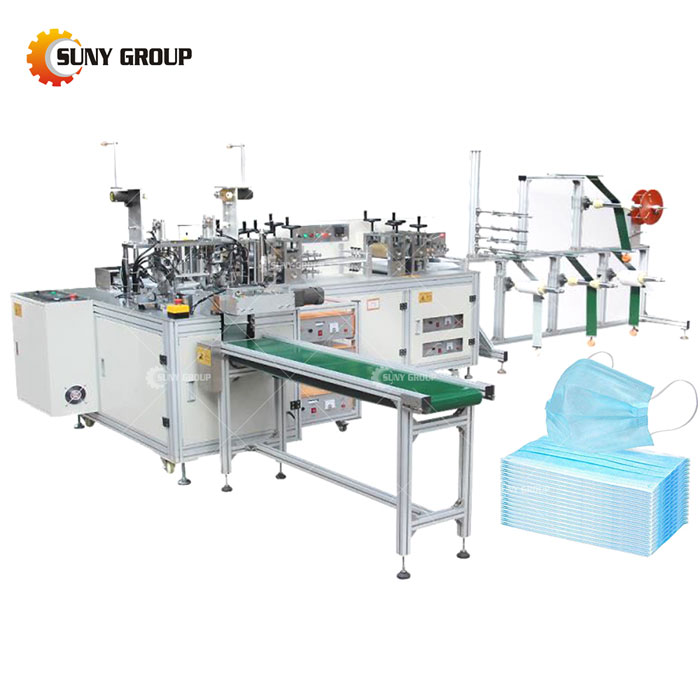 The welded pattern of the mask is uniform and clear, and the depth is consistent, and there is no missing or missing teeth.
Excessive pressure leakage caused by welding. Both ends of the mask are neat, without burrs and wrinkles.
The automatic mask machine has the advantages of simple and convenient operation and adjustment, good stability, convenient counting, accurate and high efficiency.
The automatic tension control of the raw materials ensures that the tension of the raw materials is balanced.
Computer program control, high output, good stability and low failure rate.
Photoelectric detection of raw materials to avoid errors and reduce waste.
The fully automatic mask machine can produce one to six layers of mask body.
Can produce two specifications of products
Heat sealing adopts ultrasonic system, safe and reliable
The whole machine is driven by variable frequency speed regulation control, and the gear box is driven by synchronous belt
The main rotating parts of the automatic mask machine adopt Japanese NTN bearings
The conveying channel is made of stainless steel or chrome plating
Counter display
Changing the mold can produce masks of different sizes and styles.
The automatic mask machine adopts aluminum alloy structure, which is beautiful and firm.
The mechanical structure is strong and the stability of high-speed operation is high, which effectively improves the durability and service life of the machine.
Wide variety of models, diversified patterns, can be tailored according to customer needs
Technical parameters of automatic mask machine
Model: ZT-M110
Working power supply: 220V/380V
Generator power: 800W* (15 groups)
Work efficiency: 40-60pcs/min
Output frequency of automatic mask machine: 20KHz
Slitting width: adjustable
Unwinding large diameter: 1000
Motor power: 2.2KW (2 units)
Weight of automatic mask machine: 1800-2400KG
Whole machine structure: ultrasonic electric cabinet, discharge, working process machinery
Machine size: 4200*3500*1980mm length*width*height
The automatic mask production line is a modern automatic mask production machinery and equipment. It adopts advanced high-tech and professional engineering personnel to research and develop. It is the current production speed, high stability, and complete mask equipment. It only needs to produce raw materials. It is installed on the feeding rack. After the preparation is OK, the machine will automatically produce. Only one person is required to operate the packaging. Fully automatic production is realized. The equipment adopts ultrasonic welding method, which is beautiful in style, hygienic and environmentally friendly. The output is 110-160 pieces per minute, the length of the nose bridge is adjustable, and the product size error is plus or minus 1MM. According to customer needs, you can replace some molds to achieve a variety of mask pieces. This machine can produce various non-woven masks, Smooth cloth masks, gauze masks, activated carbon masks, double nose masks, etc. Can produce 1-5 layers of non-woven mask sheets, we can design a fully automatic mask production line according to your needs. Our products have beautiful appearance, stable performance, low failure rate, small size, small footprint, aluminum alloy structure, beautiful, firm, and rust-free.
Tags:
If you have any requirement or suggestion, please fill in the form and send to us, or contact us by E-mail:sunymachine@gmail.com,thanks!