Features and uses of one-to-one high-speed automatic mask production line
Time:2020-10-24 11:30 Author:Suny Group
The whole system is controlled by Siemens PLC, with high stability, using first-line brand ultrasonic welding machine, welding quality is good, and durable;
Fully automatic molding and ear wire welding, without manual intervention in the middle process, effectively reducing secondary contact pollution, safer and healthier;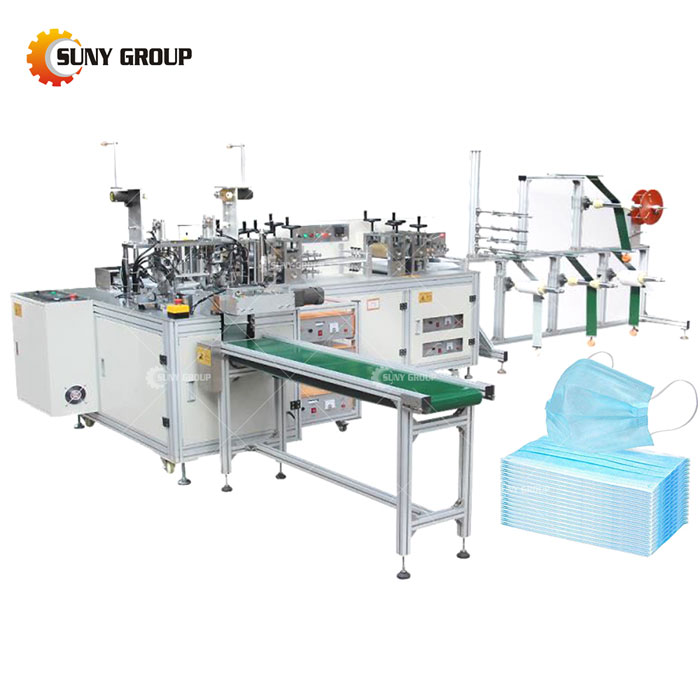 The newly developed servo ear wire welding structure has faster speed and more stable operation; the new servo structure makes machine adjustment easier and faster, saving time and labor and labor.
Modular and user-friendly design and maintenance are convenient; the equipment will automatically stop and alarm when abnormal or material failure occurs;
The high-speed one-to-one mode not only reduces equipment costs and energy consumption, but also has a small plant area, saving customers production and operation costs;
This production line realizes the fully automated production of flat masks for adults or children, mainly including coil feeding, folding and pressing, nose bridge feeding, mask forming, mask cutting, ear strap feeding and welding, and finished product blanking. The entire production process from roll raw materials to finished masks. The mask produced is comfortable to wear, no pressure, and the mask has a good filtering effect.
Tags:
If you have any requirement or suggestion, please fill in the form and send to us, or contact us by E-mail:sunymachine@gmail.com,thanks!