Dry Cable Wire Recycling Machine solves the problem of low utilization rate of waste wires
Time:2020-10-23 12:06 Author:Suny Group
The next ten years will be a decade of rapid development in the recycling of domestic renewable resources. By 2025, more than 85% of renewable resources will be recycled. This includes waste wires, cables, etc. In recent years, the overall scale of the renewable resources industry has been small, and it has faced problems such as weak recycling, low utilization, and low processing capacity. Many waste wire recycling centers have equipment that no longer meets the needs of future development. To realize the healthy and orderly development of the waste wire recycling resource industry, it is necessary to introduce a new Cable Wire Recycling Machine to improve the efficiency of processing and utilization and establish a reasonable and scientific regeneration. Resource recovery system.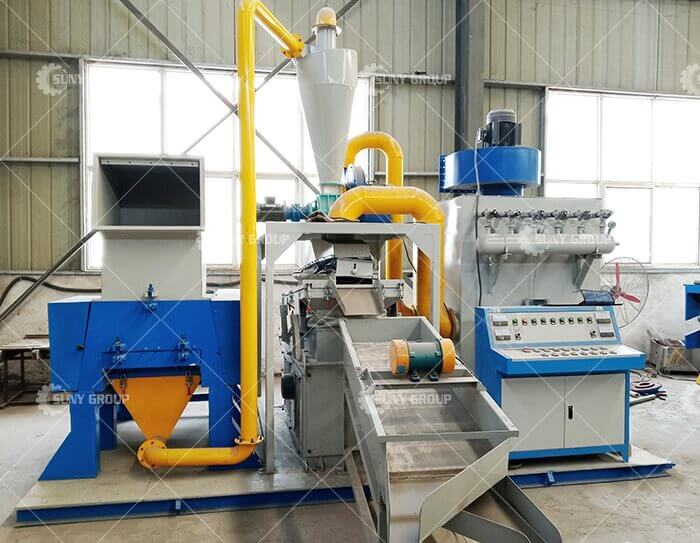 The dry-type Cable Wire Recycling Machine can smash, separate, and fully utilize the waste electrical cables, and completely process and recycle the waste electrical cables without polluting the environment. The separated copper metal can be directly smelted, as can wire plastic particles and rubber particles.
Recycling and processing into plastic products. The advantage of the dry Cable Wire Recycling Machine is that it has good separation effect, no pollution, automatic production, small investment, one person can produce it, and can adjust the wind speed and knife distance according to the diameter of the waste wire for effective separation and recovery, and achieve the purpose of comprehensive utilization. High economic benefits. The dry-type Cable Wire Recycling Machine can separate waste wires from a wide range of sources, including high-voltage cables, optical fibers, automobile cables, household wires, computer cables and other waste miscellaneous wires. After treatment, the plastic and copper meters of waste wires can be reused or sold directly. It is considerable, and has formed a virtuous circle of recycling and processing of waste materials, which is a long-term development plan.
Tags:
If you have any requirement or suggestion, please fill in the form and send to us, or contact us by E-mail:sunymachine@gmail.com,thanks!