Dry selection of Cable Wire Recycling Machine meets the current environmental protection needs
Time:2020-10-26 12:20 Author:Suny Group
When the wires and cables cannot be used normally, they will be classified as waste materials for disposal. Some wires and cables are returned to the factory for repair and replacement by the manufacturer, and others that cannot be replaced are generally classified as scrap copper for disposal. At times, the waste materials recyclers in various regions are responsible for the purchase and processing. The waste materials recyclers are responsible for peeling the wires and cables and recovering the copper in them. The copper obtained is sent to the copper factory for processing into cables or other copper products, or directly Refined into copper ingots.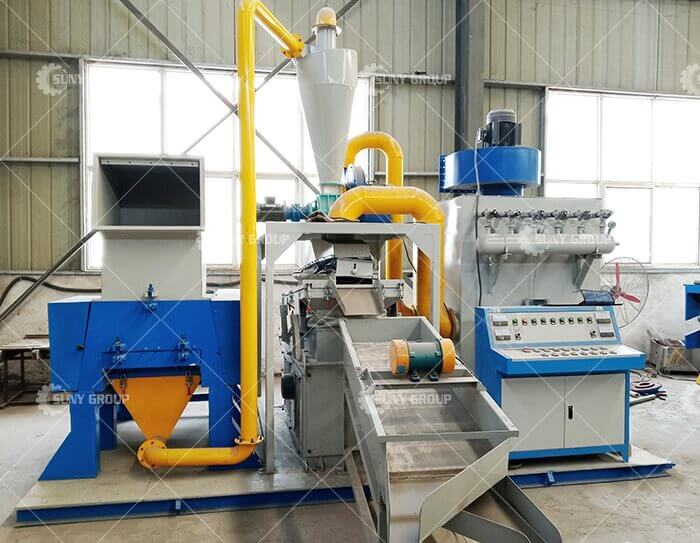 Nowadays, we all know that environmental protection is very important. If the environmental protection work is not adhered to, the later hazards are still relatively large, especially in industrial production activities, the emergence of dry copper rice selection machines provides a new solution for the recycling of waste wires and cables.
The dry separation Cable Wire Recycling Machine plays an important role in the recycling of waste wires and cables, and can solve the environmental pollution problem of a large amount of scrap metal. Therefore, such production equipment is urgently needed in production activities. The Cable Wire Recycling Machine series equipment launched by SUNYGROUP, It has greatly improved the environmental protection and efficiency issues in the production of waste wire recycling industry, and catered to the current needs of social environmental protection and resource recycling. It has received strong support and promotion from relevant departments, and it has also been popular in the waste wire and cable recycling industry. Pay attention.
Tags:
If you have any requirement or suggestion, please fill in the form and send to us, or contact us by E-mail:sunymachine@gmail.com,thanks!