Brief introduction of one-to-two automatic flat mask machine
Time:2020-10-26 12:23 Author:Suny Group
The fully automatic one-to-two flat mask machine production line is a fully automatic high-speed flat ear mask production line newly developed by SUNY, including automatic raw material feeding, automatic conveying, cutting off the nose bridge, mask edge welding, folding, ultrasonic fusion, forming, and cutting Wait for the entire process to be automated to complete the entire production process from the raw materials of the coil to the finished mask.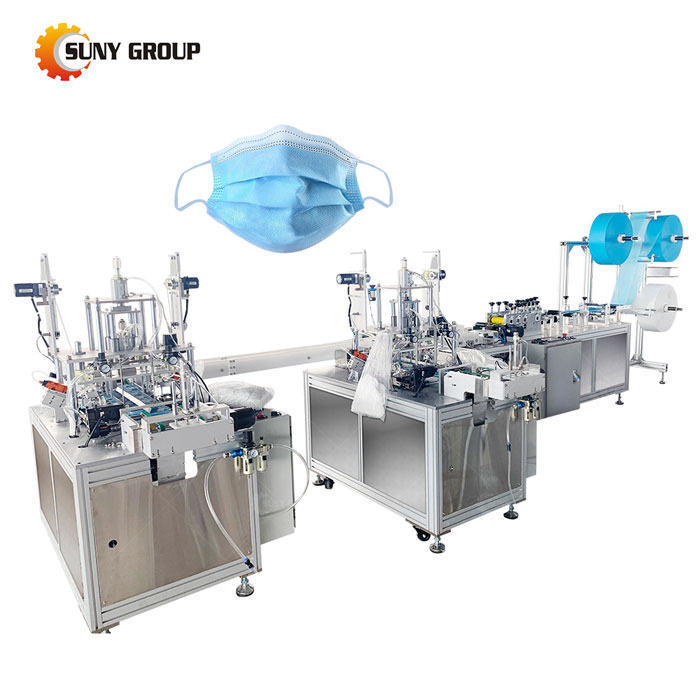 Production line structure:
It consists of a host (mask forming machine) and two ear strap welding machines (outer ear straps) connected by a one-in-two transmission line. It can realize the automatic production process from coil feeding, folding and pressing into forming and slitting, welding and blanking of ear strap feeding machine. The unique design helps companies improve production efficiency and reduce labor costs, only one person is required to operate.
Mask body machine:
The one-to-two fully automatic flat mask production line adopts advanced design. It only needs to install the production raw materials on the feeding rack. After the modulation is completed, the machine realizes automatic production. Only one person is required to operate the packaging. Fully automatic production is realized. The equipment adopts super The sonic welding method is beautiful, hygienic and environmentally friendly.
The output is 90-100 pieces per minute, the length of the bridge of the nose is adjustable, and the product size error is ±1mm. A variety of mask pieces can be realized by replacing some molds according to the needs. This machine can produce various non-woven masks and smooth cloth Masks, gauze masks, activated carbon masks, double nose masks, etc. Support the production of 1-5 layers of non-woven mask sheets. The flat earband mask produced is comfortable to wear, no pressure, good filtering effect, fits the human face, and can be used in medical, electronic, construction and other industries.
External ear belt machine:
The equipment uses ultrasonic welding to fuse the elastic bands on the inside of the two ends of the mask body. This is the last processing process of the inner ear mask production. Only one operator is required to place the mask body piece by piece in the mask tray. The equipment is done automatically. This machine adopts servo, stepping drive, precise transmission and adjustable speed.
Tags:
If you have any requirement or suggestion, please fill in the form and send to us, or contact us by E-mail:sunymachine@gmail.com,thanks!