Metal Shredder Equipment operation instructions
Time:2020-10-28 11:29 Author:Suny Group
Metal shredder equipment is a shredding equipment for recycling scrap metal resources. It adopts new automatic control technology in manufacturing and processing technology to enable users to produce more economically. Its process flow is simple and easy to use, and only needs to be shredded. The materials can be placed on the conveyor, and the whole processing process can be completed by one or two people controlling the host equipment.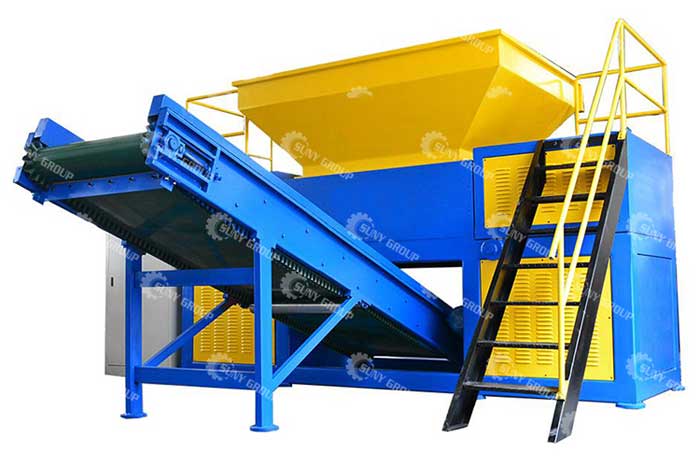 Operation of metal shredder equipment:
1. After the production line of the metal shredder equipment is opened, run idling for 3-5 minutes before feeding. Reverse for 3-5 minutes before shutting down to ensure that there is no material in the machine cavity when shutting down;
2. From time to time, check whether the screws of the whole machine are loose, add calcium-based grease to the bearing every 8 hours, and add calcium-based grease to the bearing for 24-48 hours;
3. Check whether the conveyor is off-track within 3-5 days;
4. Regularly check whether the electrical cabinet wiring connector is loose;
Five, metal shredder equipment shredded materials are materials below 4mm and steel equipment below φ12mm, this production line must be uniformly cut;
6. Try not to enter ultra-thick materials, and prohibit materials with steel grades from entering the machine.
With the call for waste recycling, the recycling and reuse of scrap metal has become a popular project, and scrap metal shredders have also become the first choice for entrepreneurship. The scrap metal processed by the scrap shredder will become a good steelmaking material, and it will also reduce the transportation pressure, which is a sunrise industry.
The metal shredder has the advantages of strong production capacity, high production level, low noise, and no pollution. Now, the scrap steel shredder equipment has been successfully settled in many areas, further confirming the practicality of the machine in real life and successfully helping Many aspiring young people completed their business and helped clients realize their ideals in life.
In recent years, fierce competition has put forward higher requirements on all aspects of the production of mechanical equipment. Facing the new normal in the development of the machinery market, Xincheng Machinery has transformed its development thinking, broke through with technological innovation, and continuously improved the development quality of the enterprise. Produced a new series of metal shredder equipment, our shredder has achieved a new leap on the road of technological innovation.
In order to ensure the quality and quantity of the shredder equipment to complete the increasingly arduous production tasks, Xincheng used its own technological advantages in the production of shredders, starting from the details, and actively solving the various problems in production. Problems to ensure the smooth production of products.
Tags:
If you have any requirement or suggestion, please fill in the form and send to us, or contact us by E-mail:sunymachine@gmail.com,thanks!