How much is a set of waste tire treatment equipment? Customized design scheme
Time:2020-10-27 11:10 Author:Suny Group
How much is a set of waste tire treatment equipment? SUNY GROUP can customize processing according to the needs of waste tire treatment equipment for processing particles or rubber powder, and provide a variety of tonnage configurations.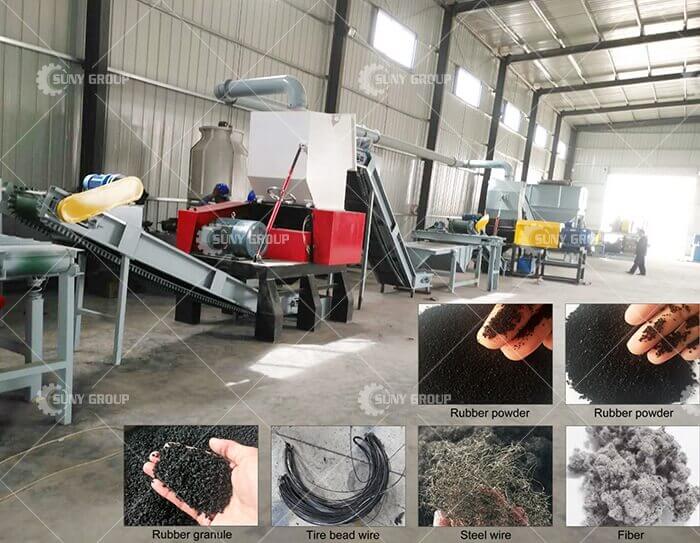 Fully environmentally friendly waste tire processing equipment line configuration, semi-automatic and fully automatic tire processing equipment are available, which can quickly separate steel wire and fiber in waste tires. Gong Yi Rui Seike provides professional and missing tires. High-efficiency decision-making equipment line. At present, the emergence of this automated production line of waste tire processing equipment integrates environmental protection and benefit solutions, and uses an integrated operation method to move tires from the era of manual processing to the era of automated equipment processing, and "liberate" it.
1. Save time and effort, liberate productivity and improve work efficiency.
2. The processing range is wider and wider, and the finished product specifications are uniform and diverse, and the effect is better.
3. No danger and high reliability, automatic alarms and other devices guarantee the production process.
Regarding the price of waste tire processing equipment, according to the difference between customized and conventional configuration production capacity, our company can provide tailor-made related solutions, whether it is an individual or corporate investment, as long as you have relevant understanding and procurement requirements. You can come to our company to inspect and test the machine on site, and use more customer success stories for investment reference.
Tags:
If you have any requirement or suggestion, please fill in the form and send to us, or contact us by E-mail:sunymachine@gmail.com,thanks!