How to choose the correct screen for the Cable Wire Recycling Machine
Time:2020-11-02 15:24 Author:Suny Group
The screen is one of the important parts of the vibrating screen of the Cable Wire Recycling Machine. The classification and filtration of materials is determined by the size of the screen mesh. Choosing a suitable screen plays an important role in the fine screening of materials and improving the screening rate of the vibrating screen.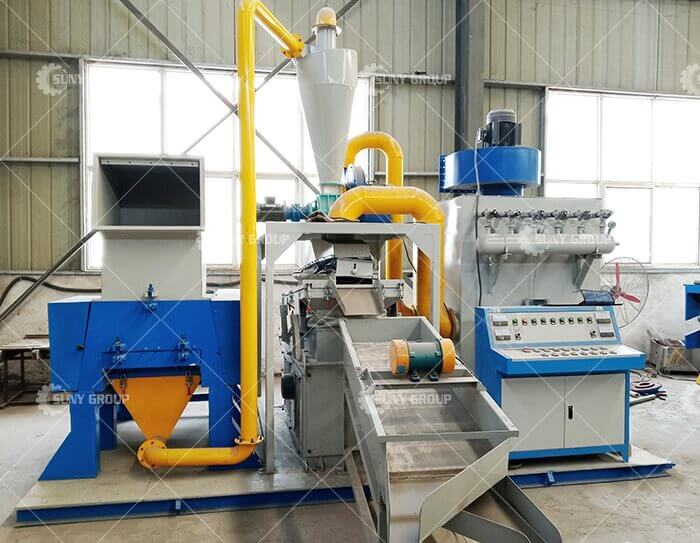 The screen of the dry Cable Wire Recycling Machine generally uses a 20-mesh screen. This kind of screen not only has a good screening effect on coarse silk, but also has a good screening effect on miscellaneous silk. However, you need to pay attention to some details during the installation process, such as: the screen should be fixed firmly and the angle should be adjusted appropriately to avoid losses caused by leakage. The matching Cable Wire Recycling Machine can process all kinds of waste wires and cables, miscellaneous wires, communication wires, data wires, earphone wires, etc. After being crushed by the crusher, the copper and plastic are separated under the action of airflow specific gravity separation. The obtained copper rice can be used directly or sold to metal smelters, and plastic can also be used directly or sold to plastic processing plants. It can not only solve environmental pollution but also bring economic benefits.
I don't know how the screens that our peers give to customers are matched, but our Asia Pacific environmental protection matching screens are tailor-made according to customer needs. Nowadays, the Cable Wire Recycling Machine industry is booming, almost all equipment manufacturers support customers to bring raw materials into the workshop to test the machine. We are no exception, but speaking of advantages, our advantage is that we can design reasonable equipment according to the customer's raw materials. The screen is the same. We will recommend the screen with a higher sorting rate to the customer, so that the customer can get every point. The money spent is worth the money, and it will bring customers as much profit as possible.
Our SUNY GROUP has advantages in technology and after-sales service that other companies do not have in terms of electronic waste recycling equipment, so that all customers can buy and use with peace of mind. If you have relevant equipment requirements, please inquire.
Tags:
If you have any requirement or suggestion, please fill in the form and send to us, or contact us by E-mail:sunymachine@gmail.com,thanks!