Fully automatic one tow one mask machine with high output and many advantages
Time:2020-11-02 15:26 Author:Suny Group
The full-automatic one-to-one mask machine achieves a high production capacity in terms of production capacity. This machine is a band-type mask production line integrated machine carefully designed and developed by professional engineers. The automatic one-to-one mask machine is integrated by two machines. The production of flat masks is completed on the first line, and the intelligent and advanced control platform can control the overall setting, which can be operated by one person.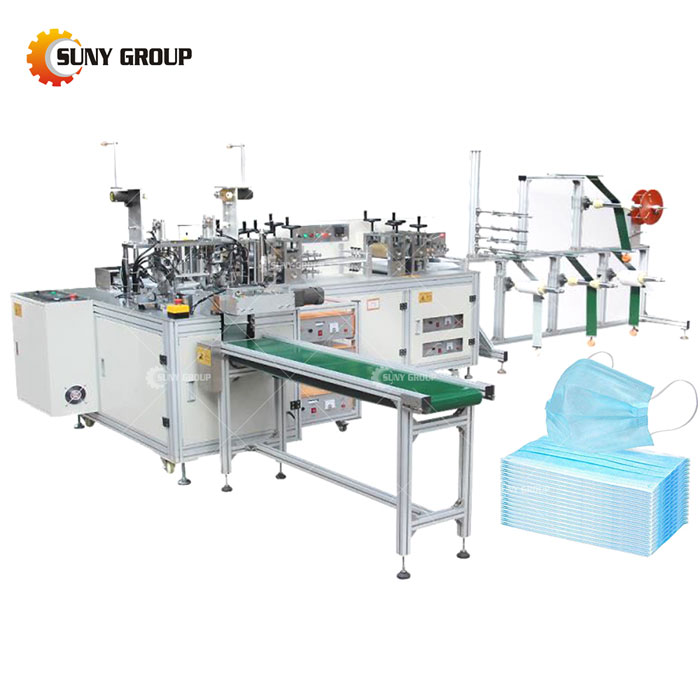 1. The advanced servo and constant temperature control system adopted by the fully automatic one-to-one mask machine is controlled by the PLC program to make the material enter→forming→welding→punching completed at one time, and the entire production process is fully automated.
2. Use the ultrasonic system to seal the ear straps on the four corners of the mask body
3. The automatic one-to-one mask machine only needs to be equipped with an automatic cup-shaped mask nose bridge strip and ear-band welding machine to produce countless cup-shaped mask products that are sold in the market.
4. Material rack suitable for carrying 3 layers of non-woven fabric and metal nose wire roll
5. Automatically wrap the ear straps outwards and cut them off, and weld them on the short side of the mask
6. The fully automatic one-to-one mask machine is exquisitely made, and its quality fully meets or exceeds domestic and foreign testing standards; at the same time, it saves more than 30% of the previous market mask equipment.
Tags:
If you have any requirement or suggestion, please fill in the form and send to us, or contact us by E-mail:sunymachine@gmail.com,thanks!