How to choose wet wipes for automatic wet wipe packaging machine
Time:2020-11-20 11:51 Author:Suny Group
Regarding how to choose wet wipes for the automatic wet wipe packaging machine, the prerequisite for wet wipe disinfection is to choose wet wipes. Most of the wet wipes currently used in the market are ordinary wet wipes or sanitary wipes, and their definition is different from that of disinfectant wipes. Therefore, wet wipes must be selected reasonably and correctly before use. The following is how to choose wet wipes suitable for automatic wet wipe packaging machine.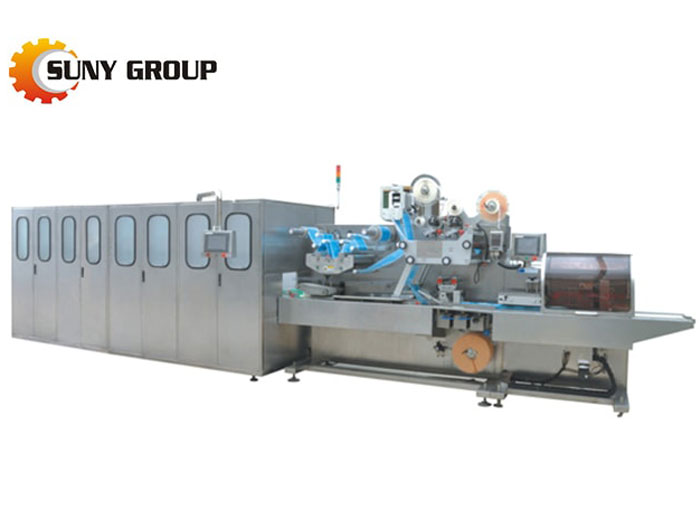 Automatic wet wipe packaging machine on how to choose the professional classification of wet wipes. Ordinary wet wipes use non-woven fabrics, fabrics, dust-free paper or other raw materials as the carrier, purified water as the production water, and appropriate preservatives and other auxiliary materials. Products with a cleaning effect on the surface.
Through surface treatment of medical technology equipment and surface or automatic wet tissue packaging machine materials, products with developing, cleaning and disinfecting functions are formed on hands, skin, and object surfaces; the killing rate of wet tissues against natural bacteria in the field environment test is 90.0%, The killing rate of microorganisms affecting Escherichia coli, Staphylococcus aureus, etc. is 99.9%.
The automatic wet wipe packaging machine can choose wet wipes according to needs. Ordinary wipes can be used for general cleaning, household or outdoor use, to meet the cleaning purpose; for higher requirements, such as after wiping, there are some ideal sterilization effects, you can choose hygiene Towel, but it can only have a certain inhibitory effect. After wiping for a long time, it will play a role of sterilization, but can not achieve disinfection; some wet wipes made by automatic wet wipe packaging machines can play a role in rapid sterilization and disinfection, so you must choose a wet wipe that meets your needs. Develop a more thorough sterilization function, mainly to prevent sudden flu.
Therefore, on the premise of reasonable design and effective selection of wet wipes, the wet wipes manufactured by the automatic wet wipe packaging machine can achieve the effects of cleaning, sanitation and disinfection at the same time.
Tags:
If you have any requirement or suggestion, please fill in the form and send to us, or contact us by E-mail:sunymachine@gmail.com,thanks!