New Technology of Waste Wire and Cable Recycling in Dry Type Cable Wire Recycling Machine
Time:2020-11-26 10:15 Author:Suny Group
We all know that there are many types of waste cables that have been used or eliminated, and the loss of copper and other by-products during the recycling process has been insurmountable. The introduction of new technology for Cable Wire Recycling Machine equipment has made it more scientific, automated, and dust-free. There is no secondary pollution and no impact on the environment. It integrates a variety of exquisite technologies to reduce labor costs and improve production efficiency, which can generate higher economic benefits and realize the comprehensive utilization of waste resources.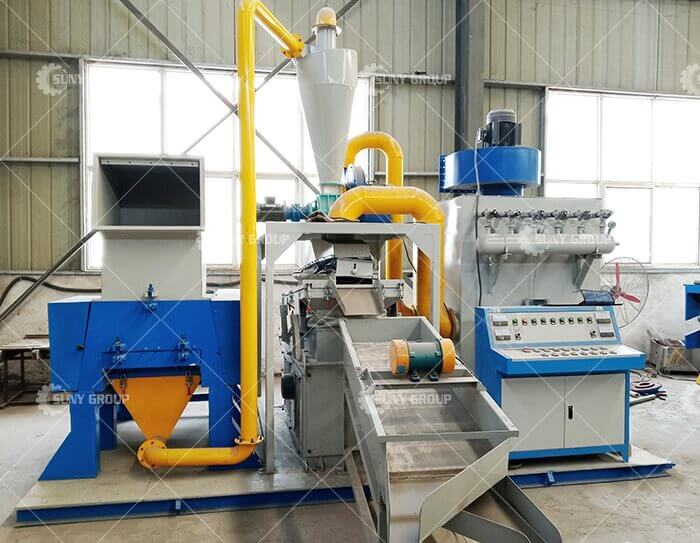 The Cable Wire Recycling Machine is also called waste wire and cable recycling equipment. It is an environmentally friendly machine used to crush waste wires, circuit wires, miscellaneous wires, communication wires, data wires, and earphone wires and separate the copper and plastic The equipment is also a waste recycling equipment.
SUNY GROUP's new Cable Wire Recycling Machine is reasonable in price, compact in structure, excellent in technology, high in output, and high in copper-plastic separation rate. It is an ideal equipment for crushing and separating waste wires. Asia-Pacific environmental protection Cable Wire Recycling Machine, small Cable Wire Recycling Machine, and automatic Cable Wire Recycling Machine, with excellent quality and perfect service, bring you an efficient and reliable production experience.
Tags:
If you have any requirement or suggestion, please fill in the form and send to us, or contact us by E-mail:sunymachine@gmail.com,thanks!