The role of tire recycling equipment
Time:2020-11-27 10:26 Author:Suny Group
First, let's discuss the environmental pollution caused by waste tires. Negligence of used tires will seriously harm people's natural environment. If you do not adopt most of the countermeasures, the total number of used tires will increase again. A country produces about 2 million tires every day. Worldwide, as the total number of cars increases, the total number of used tires will increase. A large amount of waste tires can cause serious environmental problems. Waste tires come from a variety of sources, including waste collection stations, parking spaces and waste tire sellers. Illegal dumping and open burning can be seen everywhere. The main reason for this problem is that old tires are not biodegradable and corrosive. If not handled properly, old tires can be used for more than 100 years. Statistics show that in 1996, 80 million tons of waste tires worldwide were discarded and increased daily.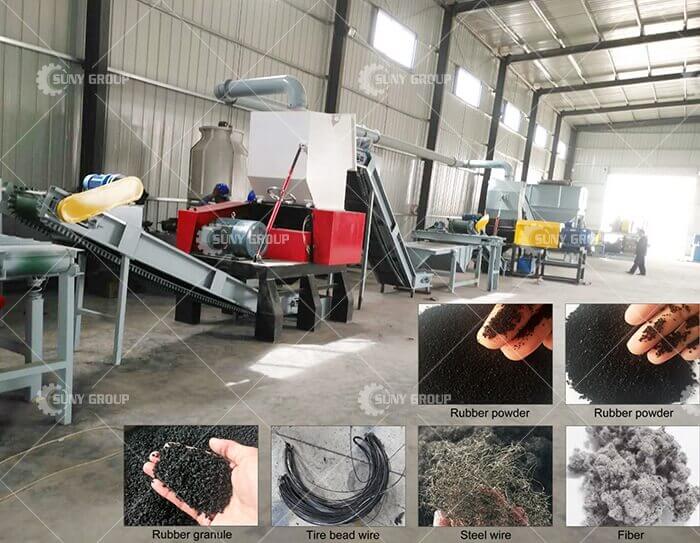 Nowadays, tire recycling equipment is the ideal way to properly dispose and recycle waste tires. Tyre recovery equipment thermal cracking system software consists of 13 parts, namely tubular reactor, transmission system, catalytic reaction chamber, cold day, heavy oil storage tank, oil and gas separator, cooler, light oil storage tank, safety device, Ultrafiltration device, dust removal equipment. Induced draft fan, chimney.
The reactor and condensing system of tire recycling equipment are two important components of the pyrolysis unit.
The tubular reactor immediately decided the safety factor and service life of the equipment. The tire recycling equipment is welded steel plates. Therefore, the quality of electric welding immediately jeopardizes the safety factor and service life. Therefore, we use automatic welding machines, X-ray inspection and heat treatment, which not only protects the welding quality, but also greatly improves work efficiency.
Following the rapid development trend of the global plastics industry, the requirements for various plastics continue to increase. Now everyone is facing another problem, that is, how to buy different plastics. Plastics are very inconvenient, because different types of plastics must be resolved differently and can be reused as raw materials.
The total number of polyethylene plastic plastic is 2, generally some heavy plastic bottles, detergent bottles and bleach bottles, shampoo bottles and so on. This kind of plastic bottle is generally used to manufacture small toys, pipes, plastic plates and ropes after purchase. Tyre recycling equipment usually does not recycle such plastics.
Tags:
If you have any requirement or suggestion, please fill in the form and send to us, or contact us by E-mail:sunymachine@gmail.com,thanks!