Do you understand that it is safe to operate the four-side sealing wet tissue packaging machine
Time:2020-12-05 15:54 Author:Suny Group
For the manufacturers of wet wipes, they are most concerned about the people who are responsible for the production of wet wipes and the operation of the four-side sealing wet wipes packaging machine. Nowadays, it is not uncommon for the machine to roll people or the machine to hurt people in society. So how can we avoid and prevent such incidents from happening?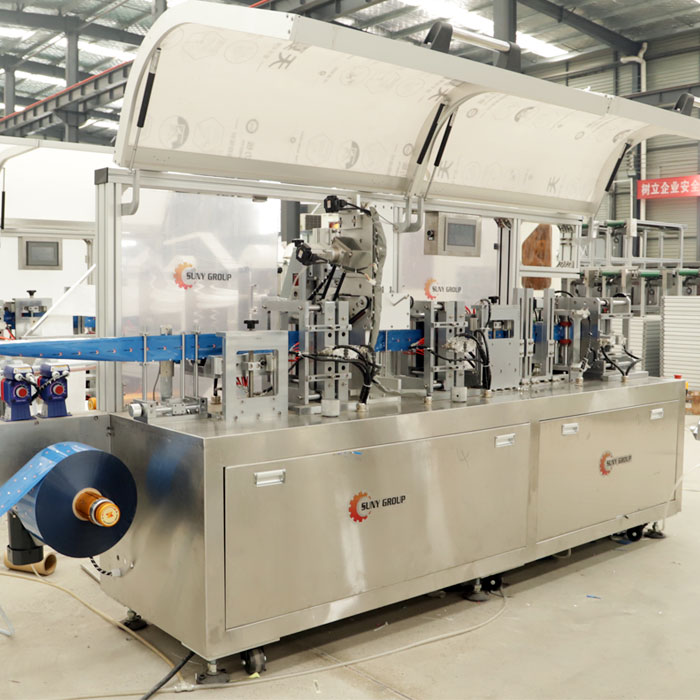 First of all, for the operation of the machine, it is necessary to strictly follow the safety production regulations, do not operate in violation of the regulations, remember that personnel should not be close to the running machine part, and do not use some tools to touch the running machine. Once a malfunctioning machine is found, the connection must be Suspend the machine for trimming in time. After the trimming is completed, it can be put into production. Do not repair while the machine is running. When you have to touch the cutter blade of the four-side sealing wet tissue packaging machine, you must be cautious to avoid injury. When placing the raw materials, be sure to handle with care to prevent the liquid from splashing and spilling on people.
For routine maintenance, it is necessary to carefully prepare various production records in accordance with regulations, including ingredients, equipment operation, inspection, and process production reports, etc., to ensure that the recorded data is complete, correct, true, and timely. In daily work, do not stack or hang the raw materials on the flatbed or operating table to avoid dumping. The non-woven fabric (spunlace) used in the four-side sealing wet tissue packaging machine should be washed frequently, and the container should be changed frequently. Remember to wipe and clean up in time.
The above are the precautions for the safe operation of the four-side sealing wet tissue packaging machine, and everyone is welcome to come to Wenzhou Blue Whale Machinery Co., Ltd. for consultation. Blue Whale Machinery has mature technology and safety guarantee.
Tags:
If you have any requirement or suggestion, please fill in the form and send to us, or contact us by E-mail:sunymachine@gmail.com,thanks!