Wet wipe packaging machine-introduction to the different uses of wet wipes
Time:2020-12-10 16:00 Author:Suny Group
Ordinary wipes are mainly used to clean the skin. There are various packaging forms, one piece, two pieces, 10 pieces individually or 10 pieces of small packages, which are easy to carry, not easy to wash with water when going out, and use when cleaning. It is convenient to use at any time. Commercial ones are mostly packaged in one piece, one package per person when used, disposable. Depending on the substrate used and the composition of the liquid to be immersed, the products have high, medium and low grades, and the prices are also very different. Low-grade products use hot-rolled (or hot air) non-woven fabric as the substrate, medium and high-grade The product uses dust-free paper (or dry paper) or spunlace non-woven fabric as the substrate. The liquid ingredients of ordinary wet wipes are generally distilled or purified water, disinfectants, and flavors. The medium and high-end products with softening and skin care effects also contain aloe vera gel, vitamin E, cocoa phosphatidic acid, glycerin, malic acid, etc. Skin care ingredients, cleansing, moisturizing and moisturizing can be done in one step. The shelf life of the product is generally 6 months to 3 years.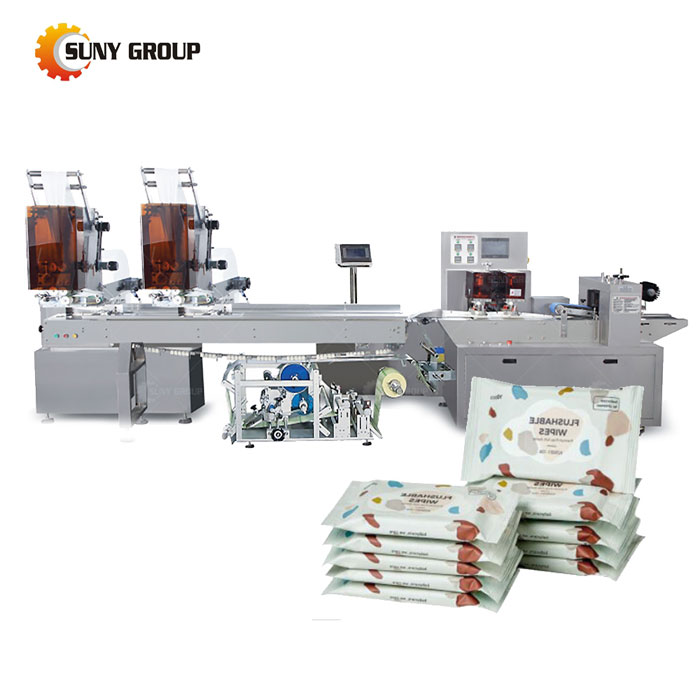 Special disinfection and nursing wipes for babies are specially used for cleaning and nursing babies' buttocks. Usually dozens of pieces are packed in removable bags, boxes or cans. The extraction opening of the bag has a sealing strip. The extraction opening of the box or can has a cover besides the sealing strip. Wet wipes are used for extraction. It is sealed immediately afterwards, which is very convenient to use. Babies special disinfection and nursing wet paper towels are mostly spunlace non-woven fabrics as the base material. In addition to distilled water or purified water, disinfectant, the liquid also contains aloe, glycerin, natural vegetable oil, baby special body lotion, etc., mild and non-irritating It can effectively clean and carefully care for the tender skin of babies, make the skin smooth, and effectively prevent diaper rash. The shelf life of the product is generally 1.5 to 3 years.
Ladies makeup remover special wet wipes are generally packed in bags or boxes of 10 or 30 pieces, suitable for carrying around. The spunlace non-woven fabric is used as the base material, and the liquid is weak acid makeup remover. Soft fiber structure, liquid makeup remover ingredients break through the way of washing makeup remover, lightly rubbing can dissolve and remove makeup dirt deep in skin pores, comfortable and soft, convenient and fast. The shelf life is generally 3 years.
Wet wipes for women's care and disinfection 1 piece, disposable. The spunlace non-woven fabric is used as the base material, and the immersion liquid is pure water, cationic antibacterial and sterilizing original body. It is mild in nature, non-irritating, and can effectively and thoroughly cleanse the skin. The rich cationic antibacterial and antibacterial agents can achieve the effects of sterilization, cleaning and deodorization. The shelf life is generally 1 year.
There are two types of disinfectant wipes. One is used to clean and disinfect small wounds such as abrasions, cuts, and scratches and the surrounding skin. It can effectively kill bacteria up to 99.9% and prevent wound infection. Spunlace non-woven fabric As a substrate, the main component of the immersed liquid is benzalkonium chloride, etc., cleaning and sterilization are completed at one time, 1 piece of packaging or 10 pieces of independent packaging, the shelf life is two years; the other has a broad-spectrum sterilization effect and is used for skin cleaning , Moisturizing, disinfecting, and sterilizing. It can also be used to clean, disinfect and sterilize daily necessities and sanitary ware. It can quickly and effectively kill Staphylococcus aureus, Escherichia coli, Gonorrhea, Pseudomonas aeruginosa and other bacteria. Spunlace non-woven The cloth is used as the base material. The liquid used is purified water, natural antiseptic ingredients, aloe vera, lanolin, propylene glycol, etc. It does not contain alcohol, is mild in nature, and has no toxic side effects. It is packed in bags of 10 or 20 pieces and has a shelf life of two years.
Tags:
If you have any requirement or suggestion, please fill in the form and send to us, or contact us by E-mail:sunymachine@gmail.com,thanks!