Folding mask machines have those technical advantages
Time:2020-12-11 15:12 Author:Suny Group
The folding mask machine is a fully active machine used to fold the mask body. Using ultrasonic technology, the folding mask machine glues 3 to 5 layers of PP non-woven fabric, activated carbon and filtering materials, and cuts out the folded mask body, which can process 3M9001 , 9002 and other mask bodies.
The folding mask machine is different according to the original materials used, and the masks produced can reach different specifications such as FFP1, FFP2, N95, etc. The ear straps are elastic non-woven fabrics, which make the wearer's ears comfortable and stress-free. Mask filter cloth The layer filtering function is good, which perfectly matches the facial shape of Asian people, and can be applied to high pollution occupations such as construction and mining. The relevant parameters of the folding mask machine are: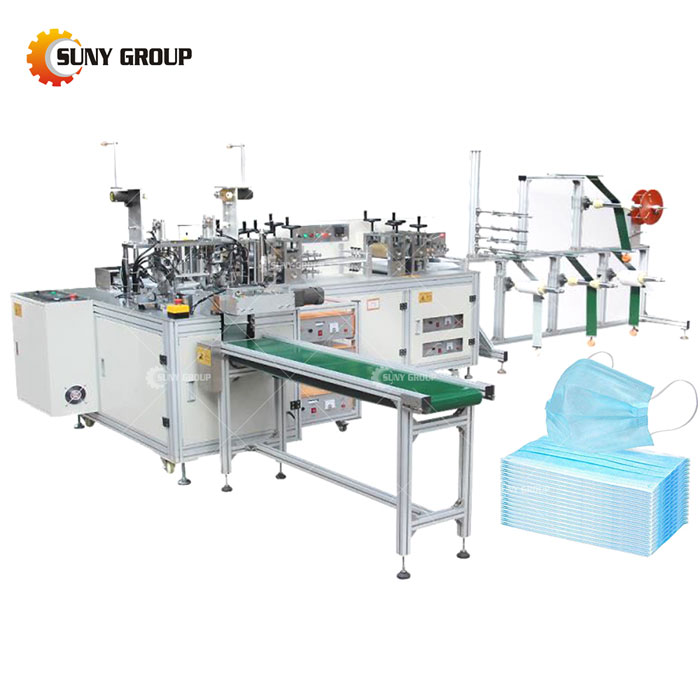 1. PLC active control, automatic counting of folding mask machine.
2. Folding mask machine is easy to adjust equipment, easy to change materials.
3. The mold selection method is used to replace the mold. The folding mask machine can quickly replace the mold and produce different types of masks.
4. The whole machine of the folding mask machine is made of aluminum alloy, which is beautiful, strong and does not rust.
5. Leading feeding and receiving equipment.
6. The folding mask machine has high stability and low failure rate. Wearing a mask is elegant: Folding mask machine reminds you: After removing the mask, don't tuck it indiscriminately. Fold the mask from the outside to the inside. Be careful not to let your hands touch the inside of the mask when folding, and tie it with a mask strap. After that, wrap it in clean toilet paper or handkerchief and put it away for next use. Masks should be cleaned and disinfected every day. Both gauze masks and air filter masks can be disinfected by heating. Rinse with water and hang in the hot sun.
Tags:
If you have any requirement or suggestion, please fill in the form and send to us, or contact us by E-mail:sunymachine@gmail.com,thanks!