Working principle of mask edge banding machine
Time:2020-12-14 14:15 Author:Suny Group
The mask edge banding machine is called a mask punching machine, which realizes automated technology to produce finished flat masks of different materials. 1~4 layers of N95PP spunbonded non-woven activated carbon are used to process information and filter functional materials. The company's machine starts from the raw material input to the nose line insertion. The quality of the cut finished product is a one-line management automation control operation. As a production enterprise equipment, the safety performance of flat masks is relatively stable, with high output and low defect rate. Mask edge banding machine, outer ear mask machine, strap mask machine or ear strap spot welding machine, improve the production of inner ear mask, outer ear mask, and strap Wear masks and other masks.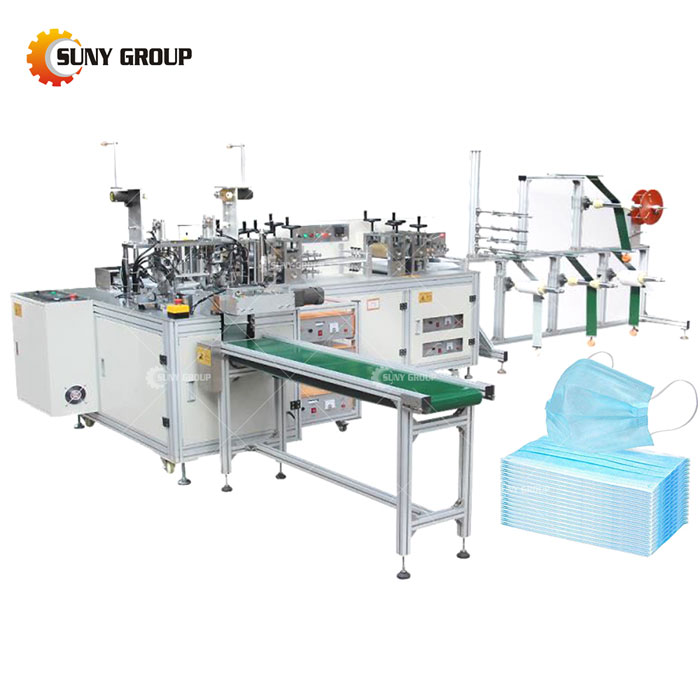 Inhalation of negative pressure to filter dust particles, 3M dust masks now use high-efficiency electrostatic filters, and different dust masks use different filter materials. The filtering effect of the mask is related to the particle size of the dust particles. Whether the particles are oily M-type dust respirators is classified according to the filtering efficiency and the suitability for filtering oily particles. The common ones are non-oily filter media, non-oily particles such as dust, water-based mist, paint mist, non-oily smoke, microorganisms, etc. Oil mist, lampblack, pitch smoke, coke oven smoke and other oily particulate matter. Dust masks with oily particles are also suitable for the protection of non-oily particles.
Ultrasonic welding works. When the mask is moved to the production and processing position, the ultrasonic can automatically learn to generate, form micro-amplitude high-frequency vibration, and convert it into a kind of heat. The material to be researched and processed during the melting process, the earband is permanent Paste or embed it on the inside of the mask body. After the inner ear mask is produced, a mechanical processing process is performed. The mask edge banding machine management operator places the mask body piece by piece in the mask tray. The finished product needs to be automatically controlled by the equipment system. The appearance of the mask edge banding machine has greatly improved production efficiency and promoted production and development in life.
Tags:
If you have any requirement or suggestion, please fill in the form and send to us, or contact us by E-mail:sunymachine@gmail.com,thanks!