What are the precautions for the installation of the mask machine?
Time:2020-12-15 18:30 Author:Suny Group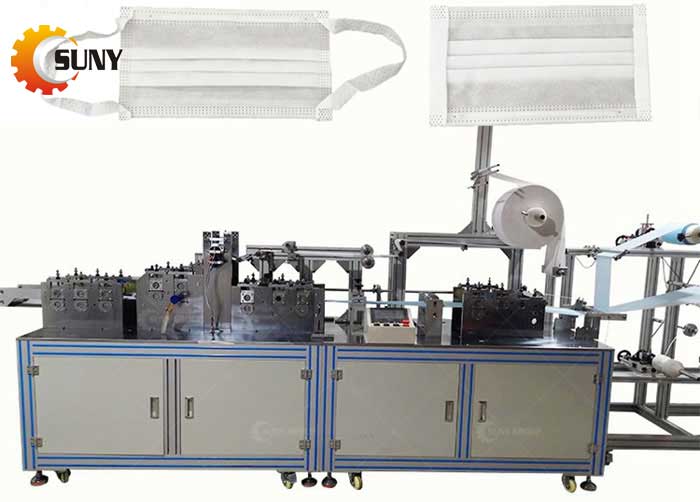 1. Before carrying the mask machine, you must first loosen the level adjustment screws at the bottom of the machine.
2. For example, the parts that were disassembled during packing of the mask machine must be assembled according to the marks made during disassembly.
3. Place the mask machine in a proper position. When it needs to be fixed, please adjust the level adjustment screw to make the machine level. Remove the binding and fixing ropes used for transportation on the equipment.
4. Before the mask machine is powered on, use the AC V file of the electric meter to check whether the power supply voltage is consistent with the machine voltage (AC220V, 50/60Hz, 1phase) and is stable. Only when the power supply is consistent and stable can the power supply be connected. Otherwise, the electronic control system and Ultrasound system.
5. The mask machine must be grounded to prevent leakage of electricity from hurting people. After the power is turned on, you must use an electric pen to test whether the cable and the machine are live to prevent leakage caused by the damage of the cable during transportation.
6. The equipment that needs air for the mask machine must first check whether the air pressure is 0.5-0.6PA before connecting to the air source.
7. When inspecting or repairing the mask machine, it must be shut down to prevent accidents.
8. Keep the inside and outside of the machine tidy, clean and free of debris.
9. The moving parts of the transmission parts such as: sprocket, chain, cutter wheel, clamps, etc. are high-risk areas. Please do not touch or try to adjust these areas when the machine is running. It is easy to be crushed, pinched or cut.
10. Ultrasonic vibrator has high voltage: do not touch this part with your hands to avoid electric shock and burns.
11. Cooling fan: Do not touch when the fan is rotating.
12. Do not open the electric box and ultrasonic system by non-professionals or maintenance personnel.
Tags:
If you have any requirement or suggestion, please fill in the form and send to us, or contact us by E-mail:sunymachine@gmail.com,thanks!