How to choose a wet wipe packaging machine
Time:2020-12-19 14:30 Author:Suny Group
With the continuous progress of the times, people's living standards have also been continuously improved, and enterprises are also facing various challenges. Therefore, continuous progress and innovation are required in all aspects, especially in product packaging. So how to choose the packaging machine?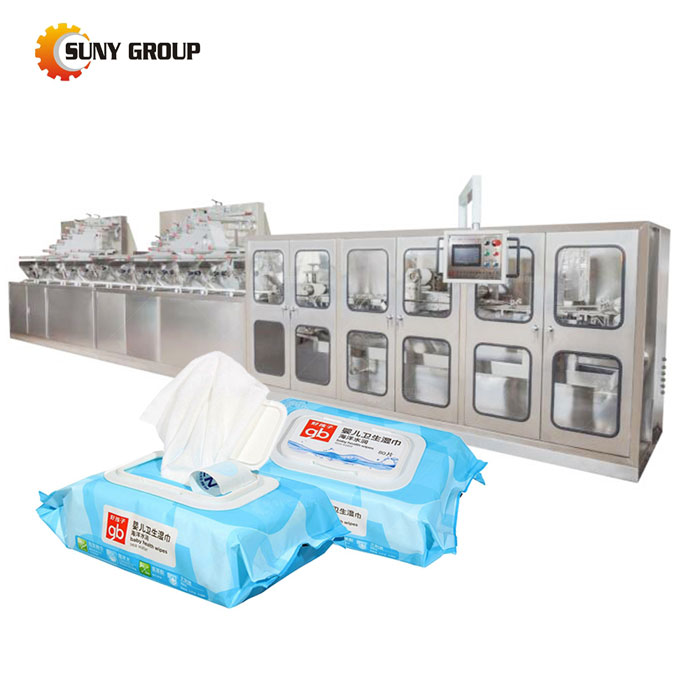 1. It can be decided according to production volume, packaging speed, packaging weight, packaging size and packaging form.
SUNY GROUP Co., Ltd. specializes in the production of various facial mask packaging machines, wet wipes packaging machines, alcohol tablets packaging machines, etc. Depending on the length and composition of the product, the maximum packaging speed can reach 230 packages per minute. The machine rolls and cuts the non-woven fabric into forming, folding, bagging, adding liquid, sealing, and outputting the finished product at one time
2. When users buy a packaging machine, they are most concerned about the price, but they can't just care about the price. If you only care about the price, then you are a machine layman, and the packaging machine you buy will definitely be fooled. If the packaging machine can be made very cheap, then the parts of the machine and the principle of the machine are different, so its life span is also different. SUNY GROUP Co., Ltd. pays attention to quality, only hard quality can go further
3. When choosing a packaging machine, you must choose a manufacturer with R&D capabilities, and after-sales service is also guaranteed.
SUNY GROUP Co., Ltd. has many years of experience in the packaging machine industry and has a strong professional technical team that independently develops and designs packaging machines. We have perfect after-sales service, so that you can buy with peace of mind.
Tags:
If you have any requirement or suggestion, please fill in the form and send to us, or contact us by E-mail:sunymachine@gmail.com,thanks!