What are the main components of the mask machine
Time:2020-12-17 16:59 Author:Suny Group
Air supply system for mask machine: (consisting of air source filter system, trachea, and air cylinder) Air filter cup to check if there is water in the mask machine? Drain water, and by the way, discharge water to the air compressor (air compressor discharge water: areas with high humidity should be given daily The air compressor discharges water). Check if there is air leakage in the air pipe? Is there air leakage in the cylinder? Is the cylinder magnetic sensor orientation and operation normal?
N95 masks are generally composed of 3-6 layers of fabric. It can be seen that this mask machine can make 6-layer masks. When you need to make several layers of masks, put a few rolls of fabric on the rack, and leave the rest empty.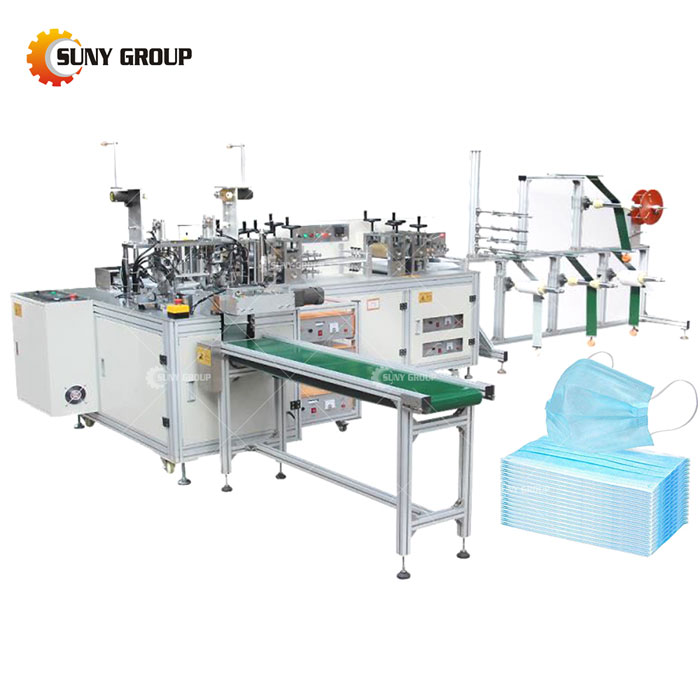 First, let's talk about the path of cloth first
Each roll of fabric passes through the tensioning mechanism, then passes through the fabric roll support frame, and enters the next process. It may sound a little confused, but don't worry, I sorted out the path of the fabric so that it looks very intuitive .
Nose wire tray:
Nose line wheel-rotating shaft-locking block-ejector-pay-off tray, in fact, this set of mechanism is to allow the guiding/driving mechanism to pull out the material when the material is short; when the material is too long, the material tray It can be stopped in time. The specific working principle is as follows:
First of all, we have to know: the nose bridge line passes under the nose line wheel. When the guide/drive mechanism is short of material, the nose bridge line is tightened, and then the nose line wheel is lifted up to drive the rotating shaft to rotate. Drive the locking block to move clockwise, the ejector rod will be lowered, and the tray can be rotated;
When there is too much material, the bridge of the nose will be loose, and the nose wheel will go down, and the rest of the action will be the opposite of the previous one. After that, the ejector rod will bear against the pay-off reel, and the reel will stop rotating.
The above is the working principle of the nose cable tray.
Tags:
If you have any requirement or suggestion, please fill in the form and send to us, or contact us by E-mail:sunymachine@gmail.com,thanks!