Wet wipe machine manufacturers: introduce you to the wet wipe machine
Time:2020-12-31 10:45 Author:Suny Group
The wet tissue machine is a combination of a bag packaging machine and a filling machine. The bag wet tissue machine is mainly composed of an automatic encoder, PLC programming system, bag opening system configuration, vibration system configuration and dust removal device, water solenoid valve, thermometer, vacuum generator Or composed of imported vacuum machine. Pumps, frequency converters, export systems and other standard components.
The main optional system configuration of the wet tissue machine is the raw material measurement and inspection filling machine, operating platform, net weight sorting scale, material elevator, feeder, product conveyor elevator and metal detector. The new horizontal design of the filling machine is light and convenient, and it can pump materials automatically. For thicker pastes, you can use a hopper to fill. The wet tissue machine also has the function of switching between manual and automatic: when the machine is in the "automatic" state, the machine will automatically perform continuous filling at a set speed. Anti-drip irrigation system: During the filling process, the cylinder will move up and down to drive the partition.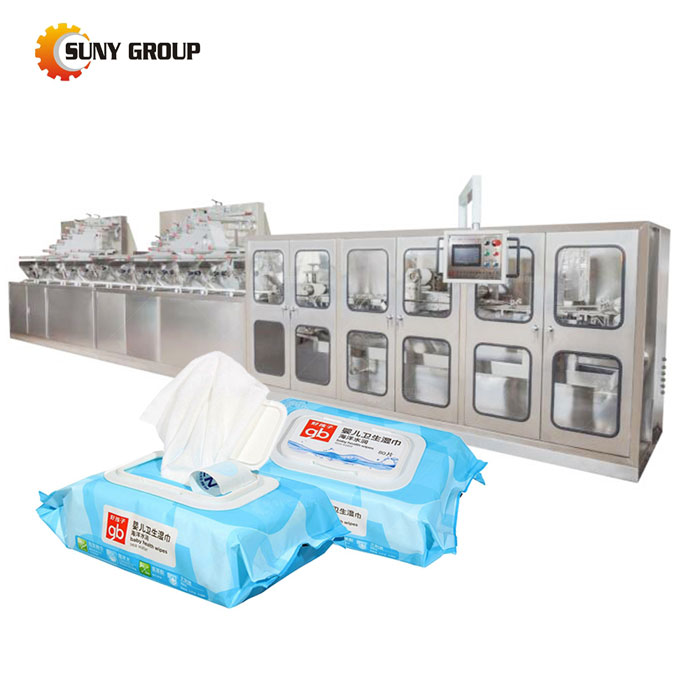 Advantages of wet wipe machine:
1. Product packaging speed is fast, performance parameters are reliable, and the qualification rate is high;
2. The weighing scale adopts waterproof material, the operating system is relatively simple to fold, and the maintenance is convenient and quick.
3. The wet wipe machine chooses the color sensor electronic display, the operation is relatively simple and quick.
4. The automatic packaging machine adopts pre-made bag packaging, exquisite packaging and high sealing quality, which effectively improves the product grade;
5. High-end facilities and equipment, high-tech, easy to manage, and at the same time improve the company's image;
6. Under the appropriate budget, technological innovation has solved various commodity packaging problems;
7. The wet tissue machine has the basic function of automatic identification. If the packaging bag is not opened or the packaging bag is incomplete, there is no material discharge, and there is no heat sealing, the packaging bag can be reused without consuming raw materials, saving customers the processing cost The wet wipe machine also has an alarm system, when the working standard pressure is abnormal or the heating tube fails, an alarm message will be sent;
Tags:
If you have any requirement or suggestion, please fill in the form and send to us, or contact us by E-mail:sunymachine@gmail.com,thanks!