What is the difference between copper rice machine and wire stripping machine
Time:2021-01-04 16:40 Author:Suny Group
Recycling waste wires and cables, in the current situation of energy conservation and environmental protection, mechanical processing is a better choice. For mechanical wire processing equipment, we introduce wire stripping machines and crushing separators, namely copper rice machine equipment. So, for the various waste wires and cables we recycle, should we use wire stripping machines or copper rice machines? Here, let me introduce you.
The wire stripping machine is suitable for stripping thick wires with large diameters, while the copper rice machine is used to process various miscellaneous wires to separate copper rice and plastic by mechanical crushing. According to the different types of materials, different screens are exchanged, and then various waste wires and cables are broken into small particles to realize the separation of the wire skin and copper. However, this is only the first step. The shredded wire skin and copper are still mixed together and need to be separated.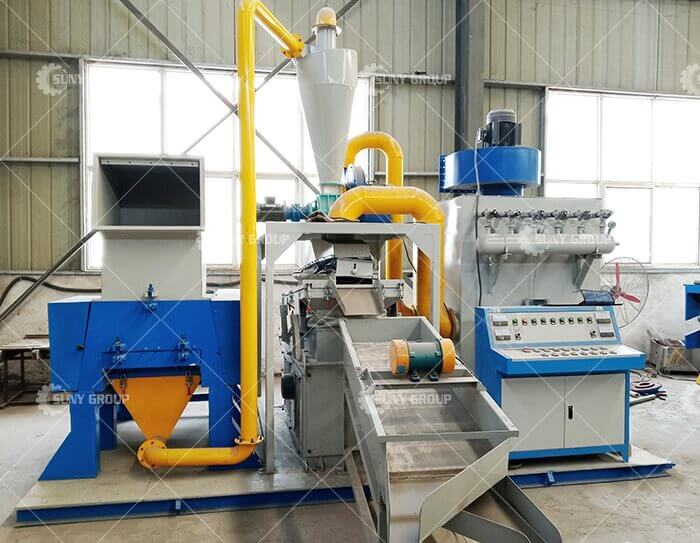 At this time, there are different separation methods, including water washing separation, air flow separation, and high-voltage electrostatic separation. The principles are different but the effect to be achieved is the same. They all separate the copper and plastic, but the carrier is different. It is precisely because the copper processed by the crushing and separating machine is the size of rice grains, so the equipment is also called a copper rice machine. In addition, according to the separation principle, it is divided into wet copper rice machine, dry copper rice machine, and high-voltage electrostatic copper rice machine. . Speaking of the crusher, its application range is relatively wide, whether it is square wire, cable wire, or automobile wire, motorcycle wire, network wire, communication wire, it can be processed, and the output is high, and the separation rate is high. Corresponding to the wire stripping machine equipment, its investment is relatively large, and it occupies a large area. It is suitable for customers who have a large amount of waste wire recovery and a variety of wires.
Above, we have introduced two kinds of equipment: wire stripping machine and copper rice machine. Existence means reasonableness. Both types of equipment have their own advantages and disadvantages. We must have understood through the above analysis and introduction. As for which equipment to use, it depends on your actual situation and what kind of wires are recovered. , The quantity is large, the quantity is not large, etc., it needs to find the right equipment.
Tags:
If you have any requirement or suggestion, please fill in the form and send to us, or contact us by E-mail:sunymachine@gmail.com,thanks!