What are the characteristics of the wet wipes automatic packaging machine?
Time:2021-01-05 11:50 Author:Suny Group
SUNY GROUP is an intelligent wet wipe equipment manufacturer integrating R&D, production, sales and technical services. In addition to providing customers with excellent wet wipes equipment, the company's core business also includes project planning, program consulting, workshop design and supporting information provision services.
The company's main products are fully automatic baby wipes production line, portable wet wipes production line, monolithic wet wipes production line, high-speed wet wipes packaging machine, wet wipes folding machine, solid packaging series and other wet wipes equipment and packaging equipment.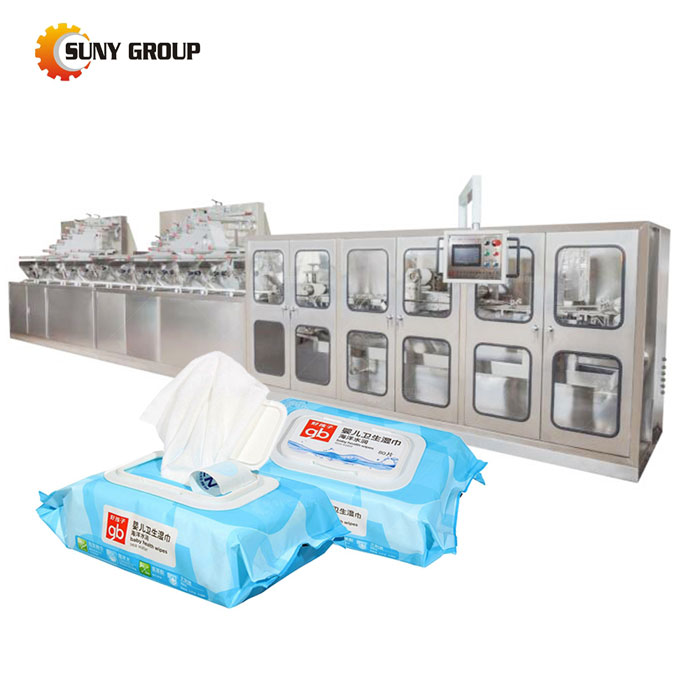 The wet tissue automatic packaging machine is a new generation of packaging equipment independently developed by our technicians in combination with international paper and non-woven packaging equipment to meet the requirements of customers at home and abroad. The whole machine adopts an integrated design of light, electricity and gas, and has advanced technology. It is one of the most advanced paper and non-woven packaging equipment in the world.
The wet wipe machine can be used to produce small package wet wipes and wet wipes in four-side sealing packaging, such as: feminine care wipes, makeup remover wipes, medical disinfection wipes, isopropyl alcohol wipes and lens wipes, computer cleaning wipes Wipes, shoe wipes, aviation wipes, catering wet wipes, etc.
Product features of wet tissue automatic packaging machine:
1. Suitable for four-side sealing products such as wet wipes, alcohol pads, cotton pads and disinfection cloths.
2. PLC touch screen control, stable and long-lasting operation, simple drive system, simple operation, low operation and maintenance costs, free to set up single pack, double pack (alcohol cotton sheet can be used as four packs).
3. Automatic alarm for wet tissue machine failure, clear display.
4. Positioned stop function, no sticking to the knife, no waste of film
5. You can choose to clean the outer cover, low noise, low pollution, stainless steel body, beautiful and durable.
The working process of the wet tissue automatic packaging machine:
Non-woven fabric folding---adding liquid---cutting---packing into bag---sealing---printing---finished product output
Tags:
If you have any requirement or suggestion, please fill in the form and send to us, or contact us by E-mail:sunymachine@gmail.com,thanks!