scrap motor recycling machine
Time:2021-01-06 11:50 Author:Suny Group
The disassembly and motor integrated machine adopts semi-automatic operation. One piece of equipment can be dismantled manually by about ten people. It is convenient to operate, stable in performance, time-saving and labor-saving; the working process does not damage the stator steel sheet, which improves the stator copper wire and stator steel sheet. The recycling rate is high, which satisfies the disposal requirements of the scrapped motor to a large extent. For example: For the Y18.5 two-pole stator, there is no need to burn the copper wire, and all the copper wires can be pulled out by just pulling the copper wire three times, and the steel sheet is not shaped, and the output is about 1 kilojin in four hours!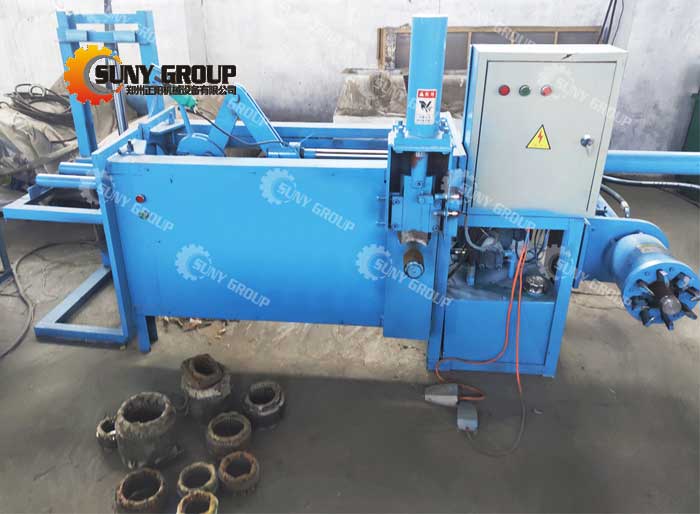 The all-in-one disassembly motor is a high-efficiency equipment for recycling the copper wires in the stator of the motor. It is generally divided into a copper chopping machine and a copper drawing machine. When the customer has a small amount of disassembly, and in order to save costs, the copper cutting machine and the copper drawing machine can be used. The machine adopts the same hydraulic station. Compared with separate copper chopping machine and copper drawing machine, this equipment can save cost. However, copper cutting and drawing copper processes cannot work at the same time, and must be tied together, so space is limited.
1 Overview
This integrated stator dismantling and cutting machine is a newly developed stator coil dismantling machine developed by our company, which can be used for dismantling motor coils of electrical products such as washing machines, electric fans, and electric tricycles.
This machine has the advantages of fast thread cutting speed, high efficiency of thread removal, small floor space and stable performance. Greatly improve the efficiency of stator maintenance and copper-iron separation. The equipment is mainly composed of hydraulic pump, hydraulic control system, thread cutting cylinder parts, drawing cylinder parts, and electronic control system. It can be efficiently disassembled for 8-slot stator and 12-slot stator.
2. Daily maintenance and maintenance
(1) This machine is a special motor, and it should not be obstructed by dust, fibers, etc. in the wind.
(2) If any abnormal noise or motor failure is found, stop the machine for inspection, and do not make a start-up test before the failure is found and eliminated.
(3) Add lubricating grease to the sliding part of the pull claw and lubricating oil to the sliding part of the cutter.
(4) Only qualified electrical technicians are allowed to carry out maintenance work.
(5) After being parked for three months, it must be checked and tested before it can run;
(6) When replacing components, pay attention to component specifications and models.
Tags:
If you have any requirement or suggestion, please fill in the form and send to us, or contact us by E-mail:sunymachine@gmail.com,thanks!