Working principle of waste cable copper metering machine
Time:2021-01-13 14:57 Author:Suny Group
The waste cable copper rice machine is an environmentally friendly equipment that uses new environmental protection technologies such as air separators, air shakers, or static electricity to separate the plastic skin from the copper core. Because the separated copper is like rice grains, it is called Copper rice machine. According to the different processing methods, it is divided into: dry copper rice machine and wet copper rice machine. Today, Yingang will share the working principle of waste cable copper rice machine.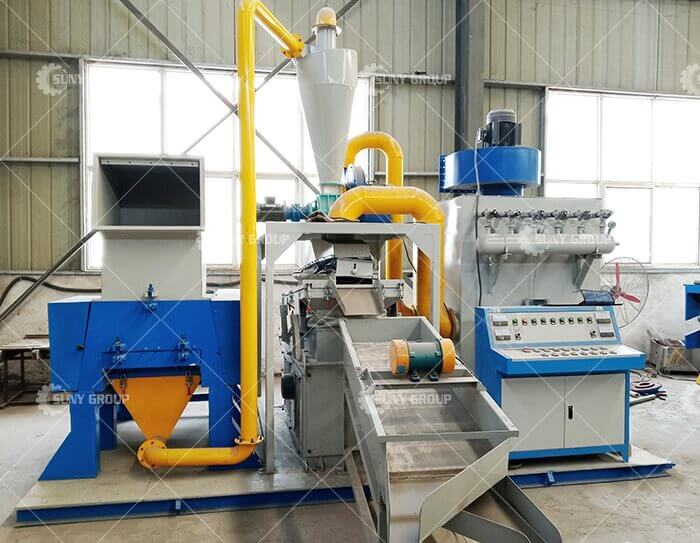 1. Dry type copper rice machine: The so-called dry type copper rice machine refers to a copper rice machine that does not need to add water during the sorting process. This kind of copper rice machine mainly adopts more environmentally friendly methods such as air sorting machine, air shaker or electrostatic sorting. The main technological process is: crushing-airflow sorting-(electrostatic sorting)-dust collection. (Electrostatic sorting is rarely used on current copper rice machines.)
2. Wet sorting: Wet sorting is a more traditional method. The idea of ​​this sorting method mainly comes from beneficiation. The wet type mainly uses gravity shaker for sorting. The main process flow is: crushing and (adding water)-gravity shaker (adding water). Because water is used in the production process, this method causes a small amount of secondary pollution to the environment, but it can be effectively recycled Miscellaneous wires, plug wires and woolen wires are widely used.
The copper rice machine equipment is used for all kinds of automobile circuit wires, communication cables and other cables and various miscellaneous cables that are not suitable for processing by stripping machines. After crushing and processing, high-voltage electrostatic separation. It can completely separate copper and plastic, and achieve the purpose of comprehensive utilization, which has high economic benefits. Moreover, there is no dust and no secondary pollution, which is an environmental protection equipment advocated by the country.
Tags:
If you have any requirement or suggestion, please fill in the form and send to us, or contact us by E-mail:sunymachine@gmail.com,thanks!