Miscellaneous wire Cable Wire Recycling Machine breaks waste wires and burns them again
Time:2021-01-20 12:05 Author:Suny Group
The miscellaneous wire Cable Wire Recycling Machine has a small investment and is used for waste wires, electrical appliances dismantling wires, cable wires, miscellaneous wires, lighting wires, data wires, electronic wires, etc., to avoid environmental pollution. The copper and plastic in the waste wires are separated and recycled. For example, the separated copper can be used as a copper source in the metallurgical industry. The miscellaneous wire Cable Wire Recycling Machine is a professional production line for dry separation of waste wires and cables. For example: old car circuit wires, communication cables, and wire strippers are not suitable for processing (various civil wires) waste and miscellaneous wires, hairy wires, etc.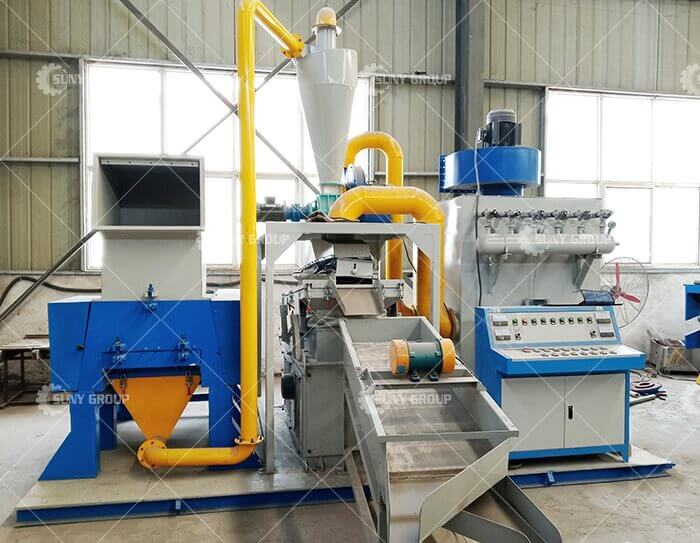 The SUNY GROUP miscellaneous wire Cable Wire Recycling Machine can be green and environmentally friendly for the recycling of waste cables and wires, avoiding environmental pollution, preventing the loss of resources, etc., and promoting the recycling of waste miscellaneous wires and cable resources. At present, the rapid development of the waste wire and cable industry and the sharp increase in demand for products will promote the rapid development of dry-type hybrid Cable Wire Recycling Machine equipment. Dry-type hybrid wire Cable Wire Recycling Machine is for promoting the development of circular economy, encouraging and promoting resource conservation and environmental friendliness.
Tags:
If you have any requirement or suggestion, please fill in the form and send to us, or contact us by E-mail:sunymachine@gmail.com,thanks!