Summary of the production line of scrap circuit board recycling technology and its resource utilization characteristics
Time:2021-01-19 15:41 Author:Suny Group
With the acceleration of the update speed of electronic products, the number of discarded printed circuit boards (PCB), the main component of electronic waste, is also increasing. The environmental pollution caused by waste PCBs has also aroused the attention of various countries. In waste PCBs, heavy metals such as lead, mercury, and hexavalent chromium, as well as toxic chemicals such as polybrominated biphenyls (PBB) and polybrominated diphenyl ethers (PBDE), which are used as flame retardant components, are contained in the natural environment. Groundwater and soil cause huge pollution, which brings great harm to people's lives and physical and mental health. On the waste PCB, there are nearly 20 kinds of non-ferrous metals and rare metals, which have high recycling value and economic value. It is a real mine waiting to be mined.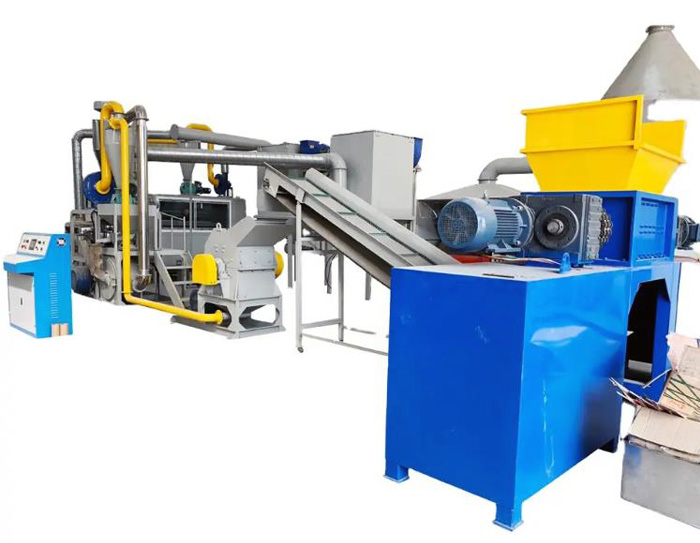 1. The source of discarded circuit boards
There are two main sources of waste circuit boards, one is the printed circuit boards contained in the discarded electronic and electrical products, and the other is the scrap and scraps formed during the production of the printed circuit boards. From computers, televisions to electronic toys, almost all electronic products contain printed circuit boards. Therefore, once electronic and electrical products are discarded, a large number of discarded circuit boards will be generated. With the rapid development of technology, electronic and electrical products are being eliminated faster and faster, and a large number of discarded circuit boards will be formed. In addition, according to relevant data, the scrap produced by the cutting process in the production process of printed circuit boards is as high as 24%.
2. Material composition of discarded circuit boards
The recycling of discarded circuit boards depends to a large extent on the understanding of their material composition and structure. Therefore, it is necessary to determine the composition and content of various substances on discarded circuit boards from a qualitative and quantitative perspective. Waste circuit boards are mainly composed of organic reinforced resin, glass fiber, copper foil and electronic components, which contain a large amount of valuable metals (such as copper, iron, aluminum, tin, lead, etc.), and also contain precious metals (such as gold, silver, platinum) , Palladium, etc.), with high resource recovery value. However, waste circuit boards also contain many heavy metals such as lead, mercury, cadmium, chromium and toxic and hazardous substances such as polyvinyl chloride and halogenated flame retardants. Improper handling will cause serious secondary pollution to the environment. Therefore, how to effectively realize the harmless recycling of discarded circuit boards and realize their re-resources is important for reducing environmental pressure and preventing environmental pollution, increasing the reuse rate of secondary resources, and ensuring the sustainable development of my country's economy, society and environment Very important meaning.
3. Metal materials contained in waste circuit boards
Waste circuit boards contain a large amount of non-metallic materials such as metals and plastics that can be recycled, which have high recycling value. The metals contained in waste circuit boards are divided into two categories: one is basic metals, such as aluminum, copper, iron, nickel, lead, tin, etc.; the other is precious metals and rare metals, such as gold, silver, platinum, and palladium. Generally speaking, the content of basic metals in waste circuit boards is high, and the content of precious metals and rare metals is low.
4. Description of waste circuit board production line
The production line of waste circuit board recycling equipment has newly added automatic control devices, which makes the entire process flow in an orderly manner, which not only reduces manual operations, but also reduces energy consumption and emissions, and improves work efficiency. First, the electronic components on the scrap circuit board are disassembled. The method of disassembly is electric heating. The friction between the roller and the board and the friction between the boards will remove the electronic components attached to the circuit board. Among them, the inside of the roller The temperature is controlled at about 230 degrees, and the tin is recycled when it reaches the melting point of tin. Secondly, the waste circuit boards are mainly composed of reinforced resin boards and resin boards with copper wires and other metal and electronic components after pretreatment, and the disassembled waste printed circuits The board is mainly composed of a reinforced resin board and a copper wire attached to it. The connection method is complicated, the hardness is high, and the toughness is strong. It is difficult to re-energy consumption by using a single crushing equipment, and a good balance between crushing efficiency and crushing effect cannot be achieved. For this reason, the current circuit board recycling equipment adopts two-stage crushing. By analyzing the characteristics of the materials after two-stage crushing, it is a high-voltage electrostatic equipment. And lay the foundation for the application of specific gravity separation equipment. For the application of two-stage crushing and grade A crushing, Runda circuit board recycling equipment manufacturers have found through experiments that the metal dissociation degrees of the two materials are very different, and the materials after grade A crushing contain more impurities and hard particles. It is difficult to separate cleanly, the materials that are crushed twice are easier to handle, and the metal is easier to separate and has higher purity. After crushing, the circuit board powder can reach 99.8% separation purity of metal through dust removal, high-voltage electrostatic separation, and specific gravity separation.
Tags:
If you have any requirement or suggestion, please fill in the form and send to us, or contact us by E-mail:sunymachine@gmail.com,thanks!