How to choose a fully automatic high-speed single-chip wipe machine
Time:2021-02-04 11:13 Author:Suny Group
1. With the development of social technology, the "high speed" of the single-chip wet tissue machine has increased from 150-200 tablets per minute to 250-300 tablets per minute. The original high-speed wet tissue machine becomes an ordinary wet tissue machine, and the word "high speed" is only when it reaches 250 pieces/minute or more.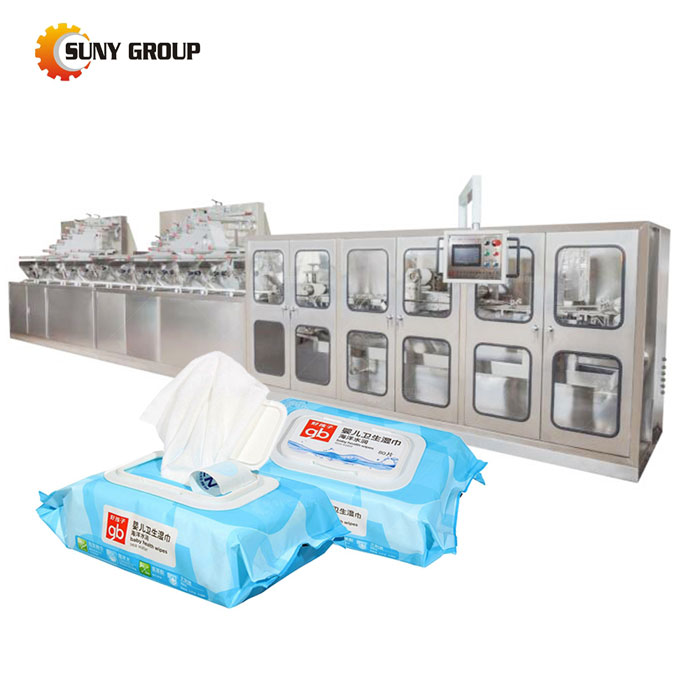 2. Do you need to buy a single-chip high-speed wet wipe machine
Starting from the actual situation of the wet wipe factory, it can be purchased if the daily output reaches 70,000 pieces or the outbound quantity reaches more than 50,000 pieces. The economic strength of the factory is the goal of long-term development, and the product quality can be purchased if it is stable.
Third, how to initially select a single-chip high-speed wet wipe machine
1. "Listen" with your ears: The noise should be light when the equipment is running, and you can hear clearly when talking at close range.
2. "Look at the equipment" with your eyes: Whether the overall layout of the equipment is concise and reasonable, whether the parts are processed carefully, and whether there are defective products during normal operation of the equipment.
3. Look at the "operation" with your eyes: whether the equipment design is humane. The adjustment of product specifications can be done directly on the touch screen, and the operation is convenient, one operator can easily operate two wet wipe machines. The touch screen directly diagnoses the problem of the device, helping to quickly solve the problem. With the diversification of wet wipes products, plastic bag specifications and sizes (including length and width) have been changed frequently. Adjustable bag-making formers are adopted. Changing product sizes does not require replacement of mechanical parts and excessive adjustments.
Tags:
If you have any requirement or suggestion, please fill in the form and send to us, or contact us by E-mail:sunymachine@gmail.com,thanks!