Fully Automatic Mask Manufacturing Making Machine and N95 Semiautomatic Face Mask Making Machine
Time:2021-02-19 15:08 Author:Suny Group
The fully automatic headband folding mask all-in-one machine is a fully automatic machine for the production of folding mask production lines. It uses ultra-ultrasonic technology to weld 3-6 layers of PP non-woven fabric, activated carbon filter material and filter material. The whole set of equipment undergoes integrated automatic folding production processes such as non-woven fabric welding, ear band welding, printing, half folding, edge banding, rolling cutting, etc., and can process 3M9001, 9002, etc. and other folding masks. The raw materials selected according to product requirements can produce masks that meet different standards such as FFP1, FFP2, N95, etc. The production of all kinds of masks does not require manual participation, and the finished product is fully automated.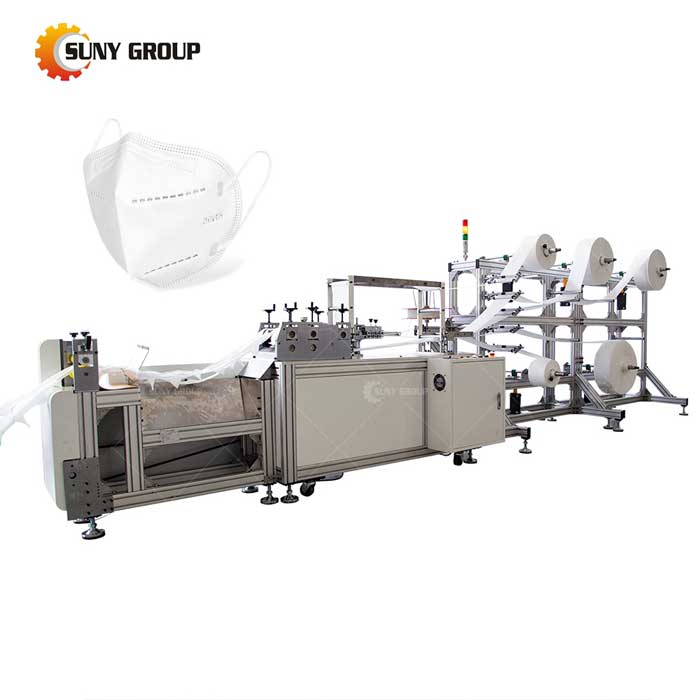 Process flow: automatic unwinding material-nose bridge feeding-ultrasonic welding-LOGO pad printing (optional)-folding forming-cutting edge material-headband welding-ultrasonic welding-cutting and forming ——Product output
Glue 3~6 layers of PP non-woven fabric and activated carbon filter material, and cut out the body of the folded mask. N95 disc masks are used for occupational respiratory protection, including certain microbial particles (such as viruses, bacteria, molds, Bacillus anthracis, Mycobacterium tuberculosis, etc.).
Features
1. Automatic tension control of raw materials to ensure that the tension of raw materials is balanced.
2. Photoelectric detection of raw materials to avoid errors and reduce waste.
3. Frequency conversion control, which can adjust the operating speed of the equipment as required.
4. High degree of automation, simple operation, only need to discharge and arrange finished products.
5. The whole machine adopts sheet metal + aluminum alloy structure, which is beautiful and firm without rust.
6. Modular and user-friendly design to facilitate maintenance.
7. PLC control, Chinese and English operation interface
Equipment operation requirements
1. The operation mode can be switched between manual, automatic and motion lines, and the fault alarm needs to be displayed on the man-machine interface;
2. Use industrial computer to realize real-time communication with PLC, and realize man-machine dialogue through touch screen. Various settings and operations need to be simple and convenient;
3. The equipment meets the requirements of the national safety standards for electromechanical equipment;
Tags:
If you have any requirement or suggestion, please fill in the form and send to us, or contact us by E-mail:sunymachine@gmail.com,thanks!