Aluminium plastic waste separation machine
Time:2021-02-19 15:11 Author:Suny Group
With the increasing scarcity of global renewable resources, the increasingly prominent environmental protection issues, and the greater number of savings and recycling, resources are utilized. Therefore, the recycling of aluminum-plastic-paper composite packaging materials has important economic and social benefits. Aluminum-plastic products are often seen in our lives, and they also play a huge role in industry and the market. Because aluminum powder has good thermal stability, high conversion rate, high hardness, good wear resistance, corrosion resistance, etc. It is widely used in various industries, and its huge demand makes the supply of aluminum powder very compact. SUNY GROUP environmental protection aluminum-plastic separator is a professional recycling equipment for the recycling and reuse of waste aluminum-plastic composite materials. It can successfully process waste aluminum-plastic panels, aluminum-plastic tubes, medicine boards and other aluminum-plastic waste materials.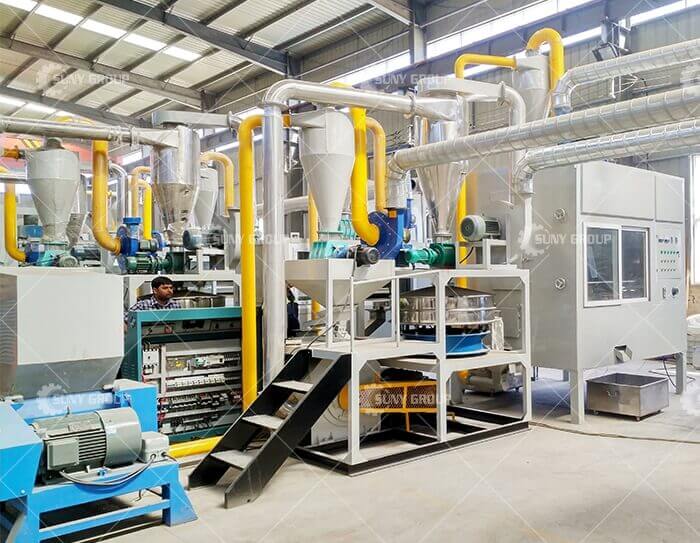 Completely change the white garbage pollution caused by unscientific land burial methods. SUNY GROUP environmental protection aluminum-plastic separator is mainly aimed at the waste of aluminum-plastic materials. It separates them, obtains useful substances in them and looks back to use them again, from a small perspective Enterprises can get effective economic benefits. In a big way, the aluminum-plastic separator effectively saves the waste of resources, greatly reduces the cost, and solves the environmental pollution problem caused by a large amount of aluminum-plastic waste from the root.
The environmental protection technology of SUNY GROUP aluminum-plastic separator is the savior of aluminum-plastic resource regeneration. Its processing and production process are also very environmentally friendly. This is another major feature of the production technology of Lvjie environmental protection aluminum-plastic separator, aluminum-plastic separator The use of wind transport to the separation equipment not only saves power, but also effectively reduces the impact of dust on the workshop environment, and further reflects the green environmental protection performance of the aluminum-plastic separator.
Tags:
If you have any requirement or suggestion, please fill in the form and send to us, or contact us by E-mail:sunymachine@gmail.com,thanks!