Operation steps of fully automated mask machine
Time:2021-02-20 10:58 Author:Suny Group
The fully automated mask machine is mainly composed of a main body machine, a sheet turning conveyor line and two ear strap welding machines. After the body machine outputs the mask body, the mask body sheet is conveyed to the turning mechanism by the conveyor belt structure. The mask pan is turned over to the conveyor belt connected to the ear belt machine through the turning mechanism, and then the mask sheet is transported to the front of the ear belt machine through the conveyor belt *above the mask pan, and the mask sheet is placed on the ear belt machine by pressing down the cylinder In the mask tray, the earband machine will complete the welding of the earbands of the mask, thus completing the production of a flat outer earband mask product.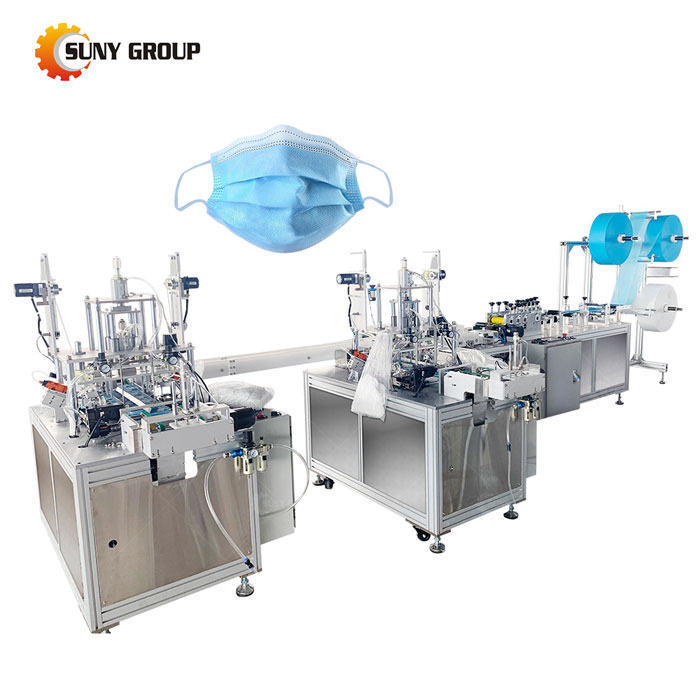 main feature
Good welding effect and low failure rate;
The production speed is efficient, up to 90-120 pieces per minute, and can be produced continuously for 24 hours;
Computer PLC programming control, servo drive, high degree of automation;
Photoelectric detection of raw materials to avoid errors and reduce waste;
Friendly man-machine interface, alarm for equipment abnormalities and material shortage, and screen guidance to quickly handle abnormalities.
Equipment List
Mask body production machine; 2. Mask connection-turning machine; 3. Mask ear strap welding machine
Technical specifications: 1. Working power supply 220V, AC±5%, 50HZ;
The power of the whole line equipment is about 8.8KW;
Compressed air 0.5~0.8MPa, after primary drying and filtering. Flow rate: about 400L/Min
Use environment
Working temperature: 0~40℃ Humidity: 5~38%HR No flammable gas, corrosive gas, dust-free workshop (not less than 100,000)
The power of the whole line equipment is about 8.8KW;
Production efficiency 90~110 pieces/minute (one for two layout)
The overall size of the equipment is about 6800mm*4800mm*1990mm
Pneumatic components: SMC or AIRTAC, etc.;
Servo system: Hechuan or Xinjie, etc.;
Mitsubishi or Xinje, etc.;
Man-machine interface: PLC programmable controller WeinView or Xinjie, etc.;
Sensors: Omron, Panasonic, etc.;
Frequency converter; Xinje, rich networking, etc.;
Ultrasonic components: 20KHZ (or 15KHZ);
Forming mold: standard factory reference disposable external ear mask industry standard;
Tags:
If you have any requirement or suggestion, please fill in the form and send to us, or contact us by E-mail:sunymachine@gmail.com,thanks!