Plastic sorting assembly line scheme, household appliance shell crushing and recycling
Time:2021-02-20 10:55 Author:Suny Group
The recyclable resources in home appliances are not just plastic. Therefore, after crushing waste home appliances, first sort out various metal resources, and then sort the plastic shredded materials, and other waste plastic products to be sorted It should also be in a broken state. Even if it is not, we also have a plastic crusher to crush plastic products for easy sorting. Therefore, the sorting of waste plastics can also be referred to as the removal of impurities in plastic crushed materials.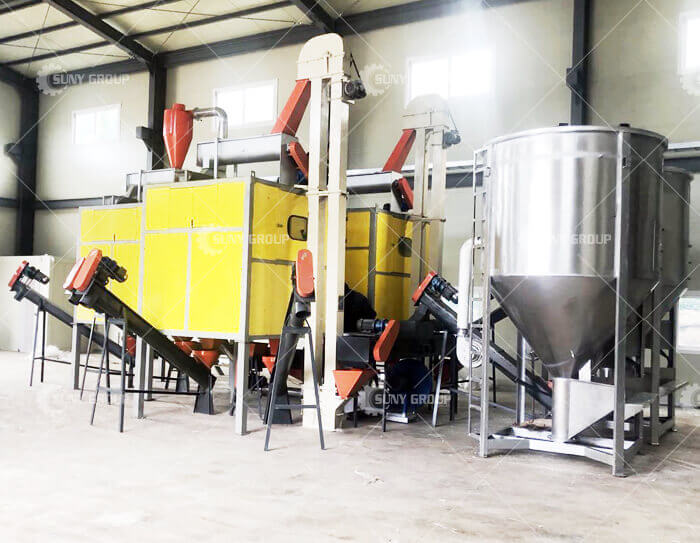 Sorting line reference: plastic mixed crushing material → feeding machine (uniform conveying of materials) → salt water bleaching tank (removing heavy objects such as stones and metals, leaving various plastics and other light floating objects lighter than salt water) → plastic crushing Machine (crush the mixed plastic) → water bleaching tank (clean the plastic, and distinguish the plastic according to the material material) → spin dryer (water removal) → dryer (drying) → silicone machine (remove rubber, silica gel and other impurities) , Obtain relatively clean plastic, according to the different materials, the purity is 99%+).
At this point, the relatively clean plastic can be sold, and its value is much higher than the original mixture (so many people will buy these raw materials and sell them after sorting, earning the difference). Of course, if there is If necessary, we can further refine the plastic to continue to increase its value.
After sorting the relatively clean plastics, we can also separate the plastics of different materials with an electrostatic sorting machine. After that, we can also use the color sorting machine to sort plastics of the same color.
Electrostatic sorting machine adopts 1+2 sorting method. The principle uses the difference in electrical properties of different materials of plastics to separate the plastics according to their materials. Color sorters are divided into waterfall type and crawler type. In addition to sorting plastics, they are also useful in the food industry (such as removing bad grains from rice) and the mineral industry (such as distinguishing different ores).
Tags:
If you have any requirement or suggestion, please fill in the form and send to us, or contact us by E-mail:sunymachine@gmail.com,thanks!