What are the precautions for the use of the four-side sealing wet wipe packaging machine
Time:2021-02-23 10:43 Author:Suny Group
This machine is a fully automatic production of fish masks. It is formed by a fish-shaped body mask machine connected with a fish-shaped ear strap welding machine. From the production of the mask body to the welding of the ear straps, the welding of the nose line to the finished product, it is fully automated and does not require any manual operation.
Full-automatic fish-shaped KF94 mask machine: According to customer needs, SUNY GROUP is controlled by PLC programming, through automatic feeding, embossing, folding, trimming, flipping, welding ear straps and other processes at one time, and successfully developed and designed a new fully automatic Fish mask machine, this machine has the characteristics of high degree of automation, simple operation and more user-friendly.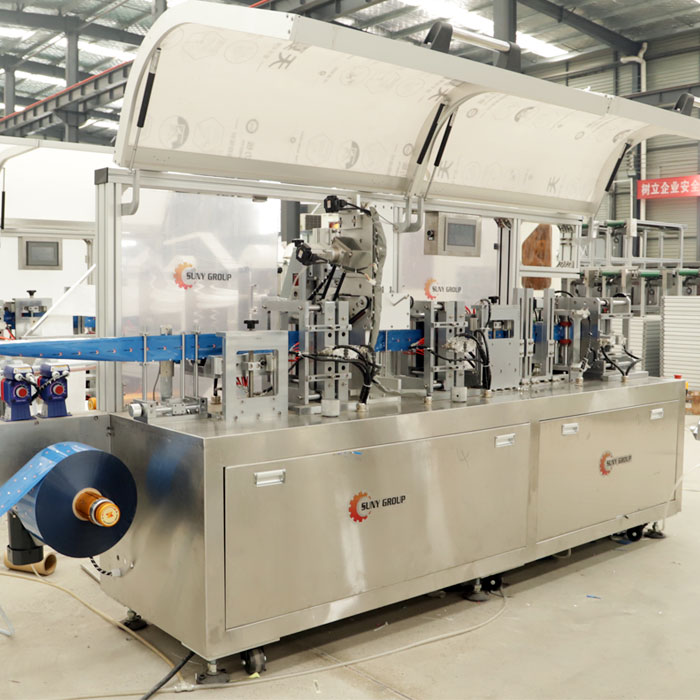 Product name: Fully automatic fish mask machine
Model: AMM-1-1F (one for one)
Material: 3-4 layers of non-woven fabric
Voltage: AC 220V, 50HZ
Weight: 1000KG
Efficiency: 80pcs/min
Product specifications: can be customized according to customer requirements
The whole machine is composed of the material rack part, the upper nose line part, the shape welding part, the folding forming, the shape cutter part, the welding ear strap part, and the output of the finished product. It adopts servo motor and ultrasonic welding technology to complete the production.
1. Material rack part: automatic feeding, brake and controller to ensure material tension.
2. The bridge of the nose: the cylinder is ultrasonically welded to automatically convey the bridge of the nose.
3. Shape welding part: the mold cooperates with ultrasonic to complete the pattern welding.
4. Folding forming: folding fabric
5. Shape cutting knife part: customized cutting knife, roll cutting forming.
6. Turning part: Turn over the mask.
7. Welding ear straps: special rotating disk, with ultrasonic wave to complete ear strap wire welding.
9. Output of finished products: output and collection of finished masks.
1 tow 1 pure electric servo full automatic fish mask machine, more than 80 pieces per minute 9 servo motors, can realize the outer ear can be automatically folded into the inner ear, which is convenient for packaging. It can be connected to the packaging machine and directly comes out for independent packaging or multiple packaging . Mass production price concessions are basically in stock. The power supply voltage is 220V, there are 50HZ 60HZ free choice, there are multiple operating languages, such as Chinese, English, Korean, export to the world, whichever language you need can be customized for free.
Tags:
If you have any requirement or suggestion, please fill in the form and send to us, or contact us by E-mail:sunymachine@gmail.com,thanks!