Waste motor dismantling machine, multi-function rotor dismantling equipment saves labor
Time:2021-02-24 10:29 Author:Suny Group
This equipment is a disassembly motor equipment, instead of manually disassembling the used motor stator or the motor stator scrapped from production, and can achieve the purpose of recycling copper coils and stator cores.
The hydraulic copper chopper is one of the main products of Xinpeng Machinery. In order to make it easier for users to understand, our factory will analyze its unique advantages below. The content is wonderful and you should not miss it. The equipment is novel in design and high in science and technology. The hydraulic copper chopping machine combines hydraulic and pneumatic in one, which can realize the automatic copper removal treatment of the waste motor stator, and the production efficiency
High, more automated, the emergence of this machine can effectively replace the traditional manual copper removal mode. The products are of high quality and low price. Mingjin hydraulic copper chopper adopts a new design concept.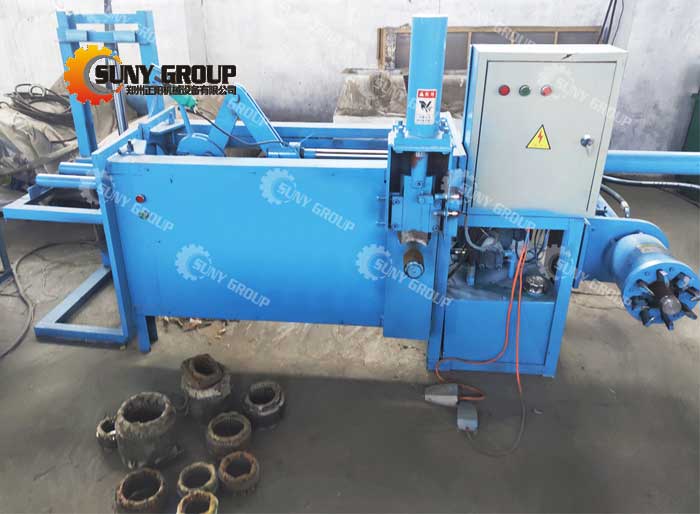 The equipment has many advantages such as energy saving and environmental protection. The most important thing is that the price of the machine is also relatively good. This is also one of the reasons why many users buy products from our factory.
The motor stator dismantling and cutting machine is a newly developed stator coil dismantling machine of our company, which can be used for dismantling motor coils of washing machines, electric fans, electric tricycles and other electrical products. This machine has the advantages of fast thread cutting speed, high efficiency of thread removal, small area and stable performance. Greatly improve the efficiency of stator repair and copper-iron separation.
This equipment mainly includes a manual switch for cutting the copper plate on the support column of the body shell cutter. First support the stator of the used motor on the support column, and cut the copper plate to the stator of the motor.
One of the foot switches is used to control the cutter to cut off the copper coils of the motor stator; the motor stator lifting table with copper coils after being cut is cut, and the motor stator is controlled to rise to the board through the manual switch, and the motor stator is controlled by the board Limit the position, and then use the foot switch to control the pliers to bite the copper coil and pull the copper coil out of the stator.
In this way, the disassembly of the stator is completed, and the user can recover the copper coil and stator core according to the actual situation.
The equipment is mainly composed of hydraulic pump, hydraulic control system, thread cutting cylinder parts, drawing cylinder parts, and electronic control system. It can be disassembled for 8-slot stator and 12-slot stator.
Tags:
If you have any requirement or suggestion, please fill in the form and send to us, or contact us by E-mail:sunymachine@gmail.com,thanks!