What are the maintenance items of the Cable Wire Recycling Machine
Time:2021-02-24 10:38 Author:Suny Group
The Cable Wire Recycling Machine is a machine dedicated to environmental protection and environmental protection. Its function is to separate the copper of waste copper products from other plastic materials, and then the copper rice from the separation can be used again, which solves the problem of waste copper products. How to deal with the problem.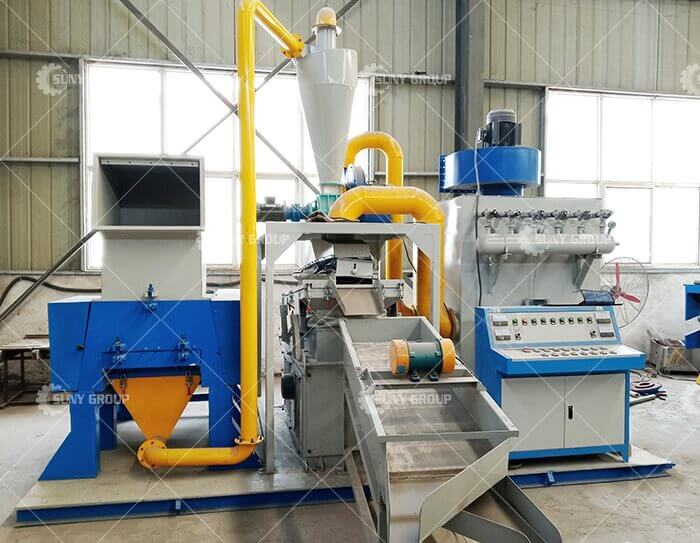 SUNY GROUP Co., Ltd. is a one-stop enterprise specializing in R&D, production, sales and after-sales service of Cable Wire Recycling Machines. We have established long-term cooperative relations with many enterprises. Cable Wire Recycling Machine products are sold all over the country and exported to many countries. Friends from all over the world are welcome to visit, inspect and negotiate cooperation.
1. Check the bearing temperature frequently. If the temperature is too high, check whether the lubrication and transmission parts are normal and whether the rolling distance is too tight. Find out the cause in time, take corresponding measures, and stop the machine for inspection when the situation is serious.
2. Check the tightness of the transmission belt frequently. Too loose the belt will reduce the transmission efficiency and affect the work effect. If the belt is too tight, it will easily cause the bearing to heat up, increase power consumption, and reduce the service life of the transmission belt.
3. Various transmission parts need to be fastened and reliable, special tools should be used for disassembly or installation, and direct hitting with tools such as hand hammers is prohibited.
4. Do not forget to check the pneumatic components. After the copper meter machine is turned on, always check the pneumatic components in the gas circuit, whether there is any leakage or damage in the gas circuit and the connection. At the same time, check whether the air supply pressure meets the requirements. The usage should also be checked frequently. If it is found to be too tight, too loose, jumping, running off, or seriously worn, it should be adjusted, repaired or replaced in time.
Tags:
If you have any requirement or suggestion, please fill in the form and send to us, or contact us by E-mail:sunymachine@gmail.com,thanks!