Overview of automatic three-side sealing wet tissue packaging machine, wet tissue packaging machine
Time:2021-02-24 10:40 Author:Suny Group
The wet tissue packaging machine is specially designed for wet tissue packaging. It adopts vertical folding and lower feeding mechanism, fast speed, stable operation, and can automatically complete: wet tissue folding, inner and outer liquid filling, slicing, bag making, sealing, counting, Many special functions such as batch numbering and finished product output effectively avoid the secondary pollution of wet wipes in the packaging process. The whole machine is compact, generous and safe. It is currently the first choice for wet wipes packaging.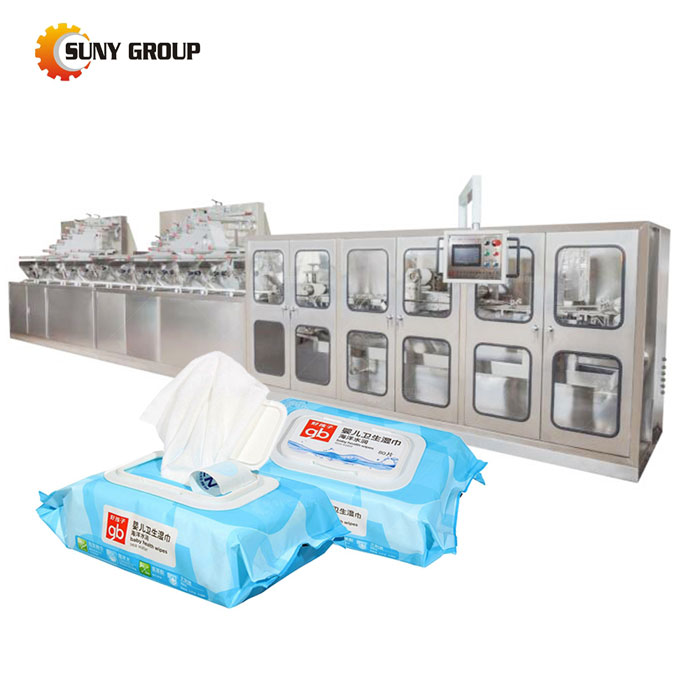 Product performance and features advantages of automatic three-side sealing wet tissue packaging machine and wet tissue packaging machine:
It adopts original single-servo or double-servo motor control, which is more intelligent than other products controlled by similar frequency conversion motors or inverters at home and abroad, with higher packaging accuracy, wider adjustable range, more precise control, and lower rejection rate , Better stability. Thanks to the world's leading fully open box structure, the transmission structure is clear at a glance, and maintenance is more convenient; double frequency conversion control, bag length is set and cut immediately, no need to adjust empty travel, one step in place, saving time and film. Imported electrical appliances, touch-type man-machine interface, convenient parameter setting and fault self-diagnosis function, fault display is clear at a glance.
High-sensitivity photoelectric eye color mark tracking makes the sealing and cutting position more accurate. Independent PID control of temperature, better suitable for coating of various materials. Positioned stop function, no sticking to the knife, no waste of film. The rotating system is simple, the work is more reliable, and the maintenance is more convenient. All control is realized by software, which is convenient for function adjustment and technical upgrade, and never lag behind. The whole machine has compact structure, simple operation and stable performance.
Tags:
If you have any requirement or suggestion, please fill in the form and send to us, or contact us by E-mail:sunymachine@gmail.com,thanks!