Waste motor recycling machinery and equipment
Time:2021-03-05 10:25 Author:Suny Group
Used motor is a common solid waste in industrial production. It is a bit far-fetched to say that used motor is solid waste. Used motor can be said to be a solid waste full of treasures. Such a solid waste can be discarded at will and let it fend for itself. A kind of waste? In fact, I found this business opportunity a long time ago. I split the used motors and sorted the internal non-ferrous metal copper and metal products to make profits. However, traditional recycling methods can no longer meet the current market demand and environmental protection requirements, so a new solution needs to be found.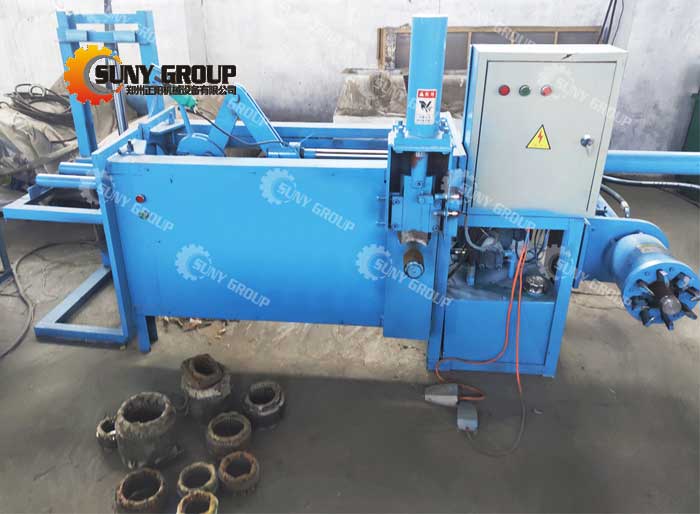 Scrap motor stator dismantling machine is currently the most popular equipment in the market for dismantling scrap motors. This equipment uses a hydraulic processing device. The equipment consists of a hydraulic copper cutting machine and a hydraulic copper drawing machine. The waste motor is removed by the hydraulic copper cutting machine. The copper wire at one end of the stator is completely cut, so that the stator head of the waste motor is disconnected, so that the copper wire inside the stator can be easily and completely disassembled when the copper wire is pulled by the hydraulic copper drawing machine. In this way, the more difficult parts of the used motor can be quickly processed.
This mechanized disposal method of used motor stators has been well received by the majority of users. It has taken the lead in the scrap motor recycling market. This scrap motor stator recycling equipment developed by SUNY GROUP environmental protection machinery has accelerated the recycling and dismantling of scrap motors. Efficiency improves the profit margin of dismantling injuries, and at the same time improves the working environment of dismantling workers.
Tags:
If you have any requirement or suggestion, please fill in the form and send to us, or contact us by E-mail:sunymachine@gmail.com,thanks!