Copper and aluminum radiator crushing and sorting production line
Time:2021-03-22 10:40 Author:Suny Group
The waste radiator is sent to the double-shaft shredder via the conveyor for primary crushing. The double-shaft shredder squeezes, tears, and breaks the radiator into small pieces, and then sends it to the vertical crusher via the conveyor for primary crushing. For secondary crushing, the hammer crusher fully dissociates the radiator fragments, and squeezes and kneads them into high-density pellets. The crushed small particles are separated from the iron in the material by the magnetic separator, and the remaining copper And the aluminum enters the specific gravity separator for fine sorting, and the remaining copper and aluminum are sorted out.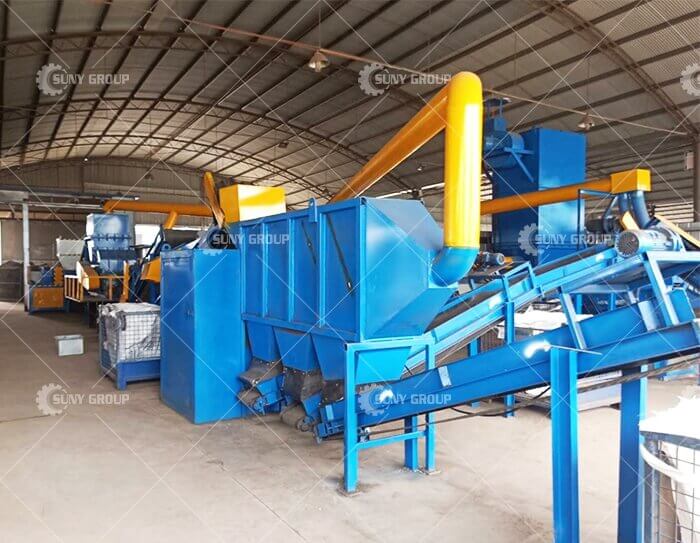 Features of the production line:
1. This production line has been researched by our company for many years and combined with the actual situation at home and abroad. Compared with similar production lines at home and abroad, the processing flow has lower metal loss, reduces the number of crushing, and ensures that the materials are separated in the maximum state, thereby reducing The production of metal powder improves recycling efficiency.
2. The primary crushing adopts a double-shaft shredder and adopts a two-shaft pair-roller design, which has low noise and high torque, and can crush larger radiators.
2. The hammer crusher adopts the swing hammer + ring hammer crushing structure, which has strong crushing ability. One-time crushing can easily crush the water tank materials without removing iron in advance. The hammer head is made of alloy material and has a service life of more than one year.
3. The degree of automation is high, and only 2-3 staff are needed for the whole line.
4. The sorting adopts two-stage gravity sorting to improve the sorting accuracy, and the purity of the sorted copper, iron, and aluminum is >99%.
5. The treatment process is equipped with a dust collection system, which effectively controls the overflow of dust.
Tags:
If you have any requirement or suggestion, please fill in the form and send to us, or contact us by E-mail:sunymachine@gmail.com,thanks!