What are the characteristics of the double shaft shredder
Time:2021-04-13 11:07 Author:Suny Group
Regarding shredders, we generally choose double-shaft shredders. The double-shaft shredder is made of alloy blades, which are mounted on two toothed rollers. The alloy cutters selected by the double-shaft shredder are manufactured by a special process after repeated deep processing. Its hardness is several times that of steel. Metal products are easy to tear.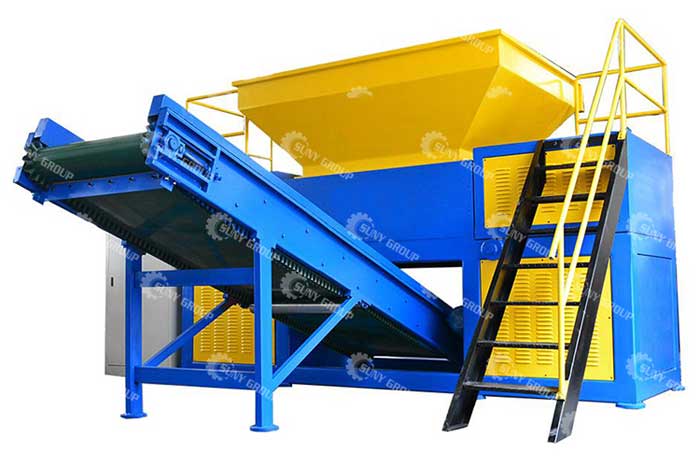 It's like two hard objects touch, so we have to see who is hard. Of course, compared with our dual-shaft shredder blades, it is difficult. The double-shaft shredder facilitates waste recycling. The raw material for crushing is generally about 20cm. The production line of coarse crushing products includes conveyors, blanking machines, special shredders, dust collectors, fans and other series of equipment.
Design the discharge thickness according to user requirements. For example, some users use metal and non-metal materials to smash materials, so special equipment needs to be designed to increase the separation of metal and non-metal materials. The discharge is divided into two parts, separating metal and non-metal materials. The output of metal shredders is divided by model, and the price of small metal shredders is tens of thousands of yuan.
The metal shredder crushes waste circuit boards, waste sofas, household appliances, rubber, wood, and waste cars. The crushed materials can be recycled with a metal shredder. The equipment has no pollution and is an environmentally friendly investment product. The blades of the twin-shaft pulverizer are made of high-alloy meshing blades, which have a good effect on any material with high hardness.
Tags:
If you have any requirement or suggestion, please fill in the form and send to us, or contact us by E-mail:sunymachine@gmail.com,thanks!