Analysis of the whole production process of N95 mask machine
Time:2021-04-13 11:04 Author:Suny Group
There are many types of N95 masks on the market. The mask machine we will analyze today looks like this: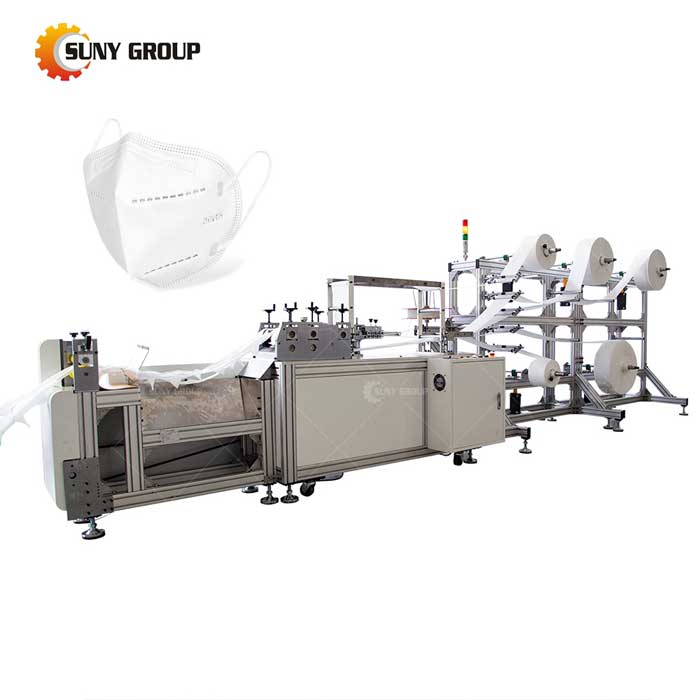 N95 masks are generally composed of 3-6 layers of fabric. This mask machine can make up to 6 layers of masks. To make several layers of masks, just put a few rolls of fabric on the rack.
One, the path of the cloth
Each roll of fabric passes through the tensioning mechanism, and then passes through the fabric roll support frame to enter the next process. I sorted out the path of the fabric so that it looks very intuitive:
The upper and lower cloth paths are the same, so only the upper part is used.
Second, take a look at the mechanism in this process
1. Fabric roll storage rack
This organization will not go into details, because it has been introduced in detail in the previous article analyzing the disposable mask machine. If you want to see it, you can pay attention to me. The difference from that mechanism is that this mechanism is powered by a drive motor.
2. Tensioning mechanism
The rightmost part of the fabric is connected to the fabric roll. As we said above: the fabric roll placement frame is driven, so this tensioning mechanism plays a role in preventing the fabric from being too loose or too tight. The specific principle is as follows:
Let me talk about it first. The function of the counterweight is to reduce the downward pressure of the two rollers on the left side of the rotating rod, but it does not exceed their gravity, so in the free state, the tensioning mechanism will rotate to the two rollers. of.
1) When the fabric roll starts to unwind, because the unwinding speed is higher than the feeding speed during production, the fabric will begin to loosen at this time, and the drum on the left side of the rotating rod will begin to fall due to gravity until the sensing plate is detected by the sensor. At this time, the drive motor of the fabric roll stops. During this process, the fabric has been kept tight;
2) When the drive motor stops rotating, the feed will make the fabric tighter and tighter. At this time, the drum on the left side of the rotating rod will be pulled up gradually until the sensor plate is detected by the sensor above, and the fabric roll will start to discharge;
3) Repeat the above process.
The above is the working principle of the tensioning mechanism.
Tags:
If you have any requirement or suggestion, please fill in the form and send to us, or contact us by E-mail:sunymachine@gmail.com,thanks!