What are the advantages of the wet wipe machine?
Time:2021-04-16 12:29 Author:Suny Group
The wet wipe machine is a small smart electrical appliance designed to adapt to the lives of modern people and change the traditional towel usage habits. It can produce fresh, hygienic, hot and cold wet wipes. The processed high-grade spunlace non-woven fabric is processed into wet wipes that can be used once, avoiding cross-infection caused by repeated use of traditional towels. Compared with other products, the wet wipe machine has the following advantages: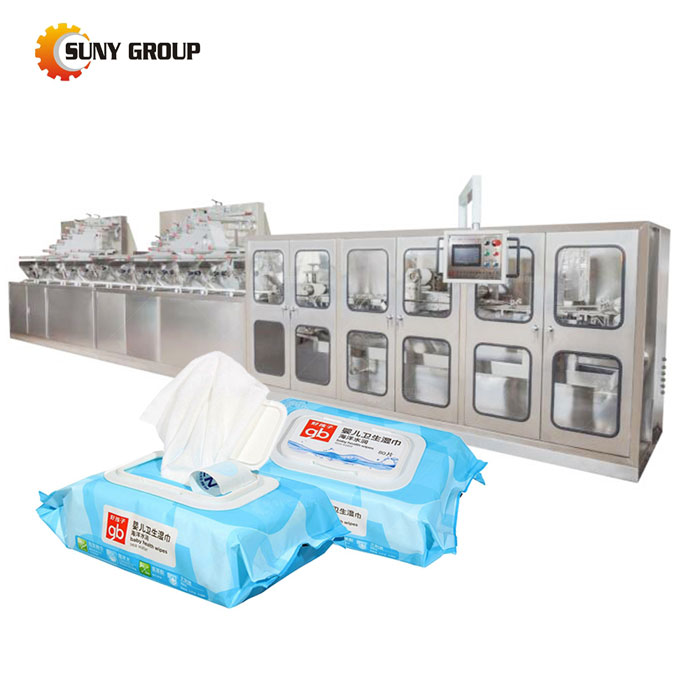 1. Easy to use, convenient and hygienic. The wet tissue machine uses a unique roll structure and a cutting knife to automatically make wet tissues. The wet paper towels and paper rolls in the machine will be separated immediately without causing contamination of the paper towels. It uses electronic automatic sterilization, fresh and hygienic.
2. Low cost. Each roll of wet wipes only costs a dime, which saves a lot of money compared with other bags of wet wipes.
3. The wet wipes machine uses pure plant fiber spunlace non-woven soft towel rolls and water as the original materials to make wet wipes, non-irritating, no additives, and gentle to skin care. If necessary, you can also add disinfectant or plant essential oil to the water tank to make disinfectant towels or fragrant towels.
4. Use it anytime, anywhere, open it anytime. Nowadays, the bagged wet wipes used in general hotels are in danger of secondary pollution, and storage also takes up space. If you accidentally wet the wipes, they will become dry wipes. In addition, the wet wipes bagged for guests are much more cordial than the wet wipes on the wet wipe tray, which makes the guests feel at home.
5. The wet wipe machine can adjust the heat and cold by itself. The wet wipe machine is equipped with a hot button and a cold button, and the temperature is between 10°C and 80°C. In the cold winter, wipe the hands of guests with warm wet tissues to show the host's meticulous service. If your hotel is still using traditional napkins for guests, please consider the benefits of using disinfectant wipes.
According to statistics, traditional napkins are processed from recycled waste paper, and the bacteria seriously exceed the standard, so if you use a wet tissue machine, these are not problems. The wiper machine is suitable for hotels, guesthouses, hospitals, kindergartens, public places, etc.
Tags:
If you have any requirement or suggestion, please fill in the form and send to us, or contact us by E-mail:sunymachine@gmail.com,thanks!