India 3 Ply Face Mask Making Machine
Time:2021-04-19 12:02 Author:Suny Group
1. This machine can produce 1--4 layers of non-woven masks. The specifications are adjustable, the thickness of the mask can be adjusted within a certain range, the length of the nose bridge can be adjusted arbitrarily, and the non-standard masks of any length can be produced under the condition of changing the mold. The rubber bands of the covered wire are placed in the conveyor belt box. The rubber bands at both ends of the mask are automatically conveyed and cut, and the welding is firm. It is a one-time machine to complete the tape equipment, high output, low scrap rate, easy to operate, and the appearance is made of aluminum alloy structure.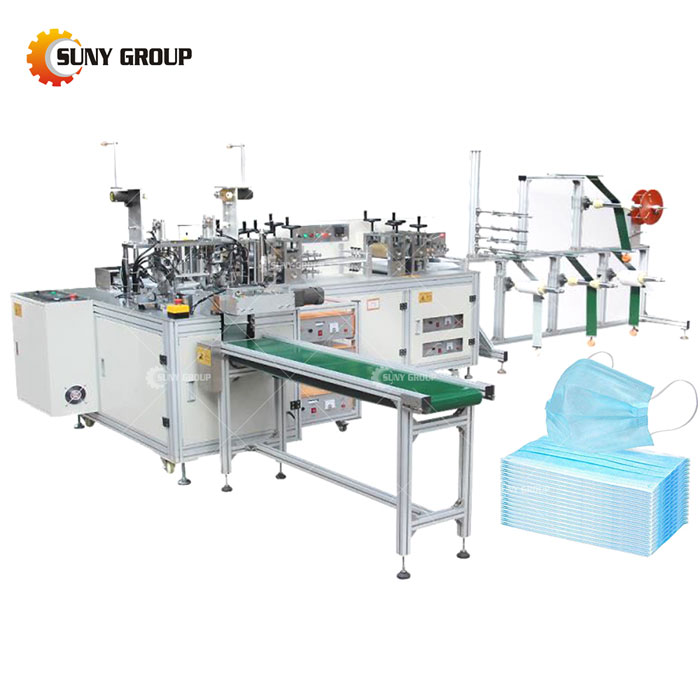 2. The mask output is output by the conveyor belt, the speed is adjustable, the output is neat, the product quality is stable, the operation is convenient, and the production efficiency is high.
3. The all-aluminum profile machine is clean and beautiful, without welding and painting. Human-machine interface touch screen control, built-in time, total output, daily output, and set number automatic alarm and shutdown, digital keys to adjust the filming speed.
4. The motor adopts Taiwan imported motor, gear deceleration with brake function, very low noise
5. The mask is formed by ultrasonic welding, with superior performance, high-speed filming, and internal spot welding.
Tags:
If you have any requirement or suggestion, please fill in the form and send to us, or contact us by E-mail:sunymachine@gmail.com,thanks!