Application range of double shaft shredder
Time:2021-04-25 10:50 Author:Suny Group
The double-shaft shredder is a large and small-sized double-shaft shredder device that uses a double-shaft knife roller to cut or tear and shred materials in relative motion. This equipment is mainly composed of knife roller, screen, fixed knife, carrying box, box bracket, feeding system, power system, and electrical control system. Due to its low speed and large torque, the double-shaft shredder is suitable for shredding harder or larger materials. Such as wood, tires, waste home appliances, metal, etc.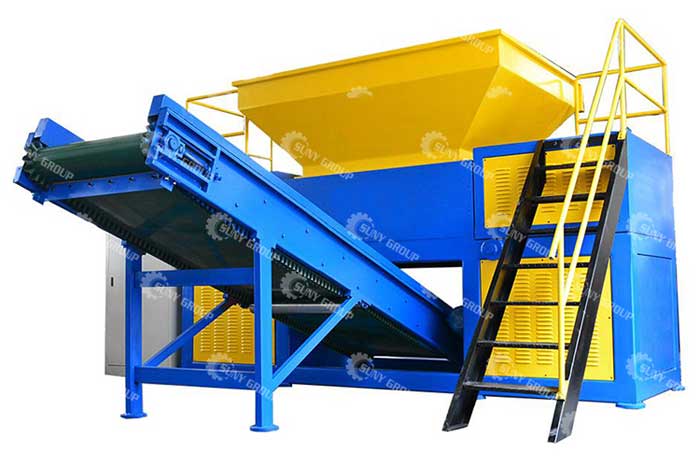 The double-shaft shredder is mainly used for waste household appliances, color steel plates, cables, plastics, rubber, tons of bags, tires, household garbage, paper-making garbage and other coarse powder. The main features are high output, no dust, low noise and other advantages. Current environmental protection processing equipment!
Dual-shaft shredder use: generally can be used to shred solid materials such as plastic, rubber, fiber, paper, wood, electrical devices, cables, etc. that are difficult to break, such as nozzle materials, plastic heads, PET bottles, cardboard, circuit boards , Wood, plastic barrels, etc. As long as the material is difficult to shredder, the product that enters the shredder becomes 20x40mm granular. The shredder has a low knife speed during use, ensuring safety and no harm, low noise, low energy consumption, and strong practicability.
Tags:
If you have any requirement or suggestion, please fill in the form and send to us, or contact us by E-mail:sunymachine@gmail.com,thanks!