What are the debugging skills of the mask machine
Time:2021-04-25 10:52 Author:Suny Group
Turn on the start-stop switch and the power switch, and the built-in light of the power switch is on. Adjust the air pressure. The air pressure valve is under the worktable. Open the door of the equipment and you can see the air pressure valve. Adjust the pressure according to the actual situation.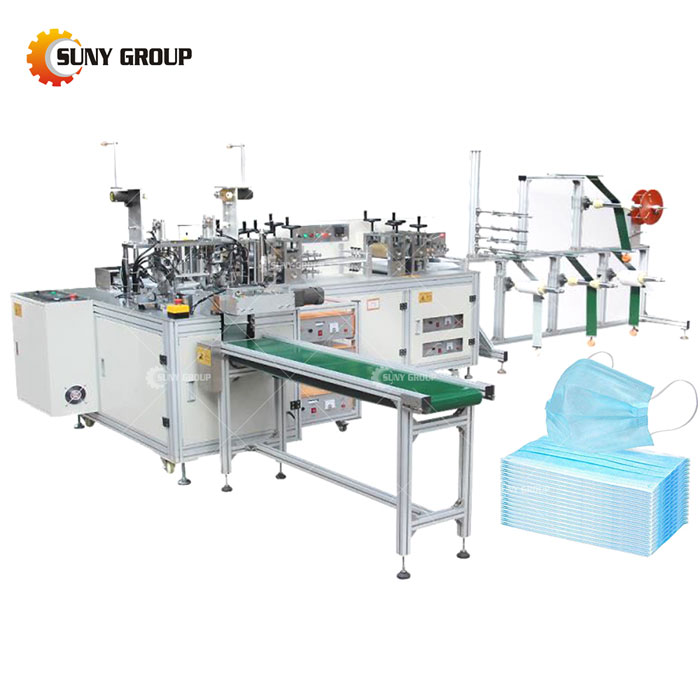 The mask machine is to make various masks with certain filtering performance through the processes of hot pressing, folding and forming, ultrasonic welding, waste removal, ear belt and nose strip welding. The mask equipment is not a single machine, it needs The cooperation of multiple machines completes various processes.
The fully automatic inner ear mask machine uses ultrasonic welding. When the mask is moved to the processing position, ultrasonic waves are automatically generated, forming micro-amplitude and high-frequency vibration on the earband, which is instantly converted into heat, melting the material to be processed, and finally The ear straps are permanently pasted or embedded inside the mask body, which is the last processing step in the production of inner ear strap masks. Only one operator is required to place the mask body piece by piece in the mask tray. The subsequent actions are automatically completed by the equipment until the finished product is completed. operating.
Tags:
If you have any requirement or suggestion, please fill in the form and send to us, or contact us by E-mail:sunymachine@gmail.com,thanks!