Fully automated face mask with 2 ear loop machine
Time:2021-04-27 10:50 Author:Suny Group
SUNY GROUP's newly developed fully automatic high-speed flat ear-belt mask production line includes automatic raw material feeding, automatic conveying, cutting off the nose bridge, mask edge welding, folding, ultrasonic fusion, forming, cutting and other full-process automation, completing the raw materials from the coil. To the entire production process of the finished mask.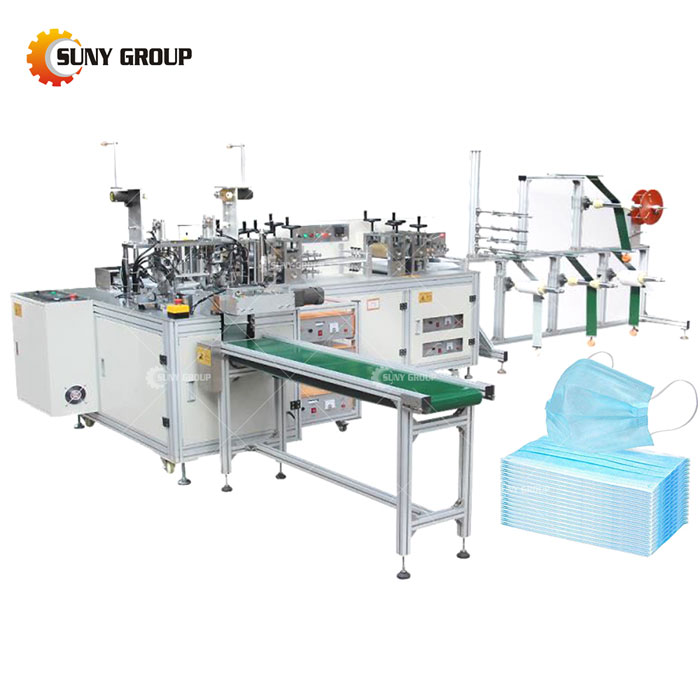 The fully automatic one-to-two flat mask machine is composed of a mask body machine and two ear belt machines. It adds an automatic conveyor belt and a connecting machine to realize the fully automated production of flat masks, mainly including roll material feeding, folding and pressing , Nose bridge material feeding, mask forming, mask cutting, ear strap feeding and welding, finished product blanking, etc., complete the blanking and other processes, and complete the entire production process from coil raw materials to finished masks. It only needs one person to operate, the mask produced is clear and firm, with good welding effect, comfortable to wear, no oppressive feeling, good filtering effect, suitable for human face, suitable for medical, electronics, mining, construction and other industries.
The production process of the one-to-two production line of the automatic flat mask machine: the whole roll of fabric is driven by the roller after unwinding, and the fabric is automatically folded and hemmed; the whole roll of the nose bridge is unrolled, cut to length, and then imported into the hemmed fabric. The two sides are ultrasonically welded to the seal, and then ultrasonically sealed laterally, and cut into shape by a cutter; the mask is conveyed to the two mask earband welding stations through the assembly line, and the mask is finally formed by ultrasonic welding; when the mask is made, Conveyed through the assembly line to the flat belt line for collection. The unique design of Xintaiming's mask production line helps companies improve production efficiency and reduce labor costs.
Tags:
If you have any requirement or suggestion, please fill in the form and send to us, or contact us by E-mail:sunymachine@gmail.com,thanks!