Li Ion battery recycling plant process flow
Time:2021-04-28 10:04 Author:Suny Group
With the increasing application of lithium-ion batteries in various fields, especially the gradual promotion in electric vehicles, new energy, military and other fields, in the future, with the continuous progress of various new technologies, including silicon-carbon composite materials, solid electrolytes, etc. The new materials are expected to be widely used in lithium batteries, and new disruptive lithium-ion battery products may appear in specific application areas such as wearable devices and special environments.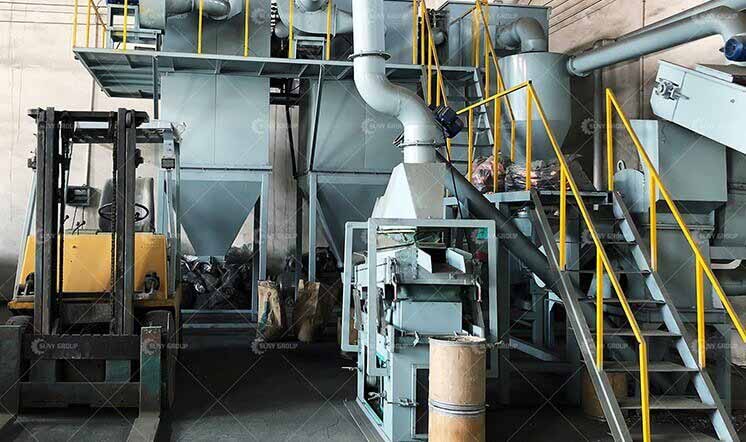 As time goes by, the power lithium battery will inevitably be replaced. How to deal with these used lithium batteries?
SUNY GROUP has been continuously summing up the lithium battery processing experience, and has achieved new results in the research and development of crushing, sorting and recycling of charged waste lithium batteries, providing a set of new technical solutions for the recycling of waste lithium batteries. This technology has reached The pre-determined goal of harmlessness and resource utilization.
After the charged battery enters the closed wind insulated star wheel through the insulated bin, the oxygen-deficient feed is carried out. The charged battery passes through the Z cavity to the broken chamber. The Z cavity prevents the material from rebounding. The broken chamber by the inert gas is in an oxygen-depleted or oxygen-free state. To achieve the anaerobic state of the charged crushing chamber (the broken chamber uses inert gas to improve the discharge and volatilization of the electrolyte and prevent the heating effect of the discharge), the rotor knife and the bed knife cut and break the battery, and friction breaks it up. After the crushing, the material passes through the closed air partition. Oxygen is effluxed. The crushed and volatilized lithium battery materials are fed into the sorting device. The plastic film is first extracted and separated by closed negative pressure air separation. After separation, the plastic film is collected by magnetic separation and then separated by vibrating sieve to separate the positive and negative powders. Heavier materials The copper, aluminum block, plastic shell, screw, stainless steel, etc. are separated by the positive and negative pressure cycle air separation at the lower end, and the iron magnetic substance is separated by the magnetic separation. At the same time, the negative pressure removes the positive and negative plates and a small amount of plastic film. Separate from heavy objects, the device realizes the reuse of circulating air and almost no exhaust gas is discharged.
Tags:
If you have any requirement or suggestion, please fill in the form and send to us, or contact us by E-mail:sunymachine@gmail.com,thanks!