How about waste wire and cable crushing and recycling equipment?
Time:2021-04-29 10:40 Author:Suny Group
Wire and cable crushing and recycling equipment and cable wire recycling machine can automatically separate pure copper with a content of 99.9% through crushing, air separation, and specific gravity separation. The whole cable wire recycling machine production line is operated by 1-2 people to improve the recovery rate. In turn, the production efficiency is improved and considerable economic benefits are achieved.
cable wire recycling machine (also known as waste wire and cable recycling equipment) is a machine used to crush waste copper wires to separate copper and plastic. Because the separated copper is like rice grains. Therefore, it is called cable wire recycling machine, which is a kind of environmental protection machinery.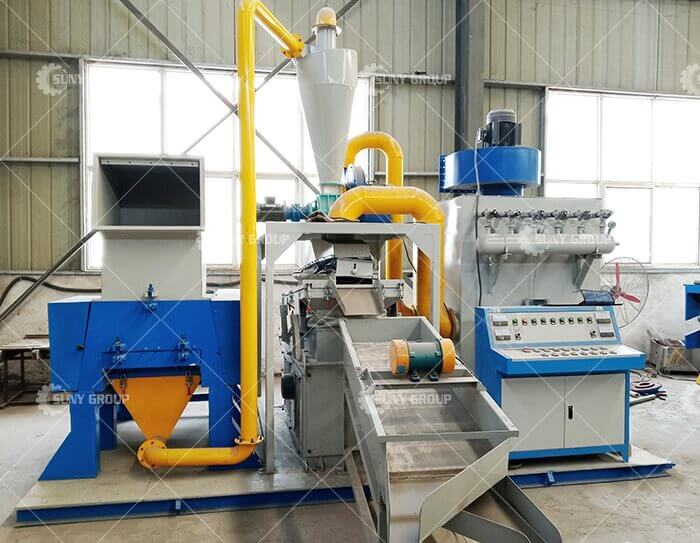 Applicable scope and function: It is suitable for various kinds of wire stripping machines such as various car circuit wires, motorcycle wires, battery car wires, TV sets, washing machines, refrigerators, air conditioners and other household appliances wires, communication wires, computer wires, etc. Waste line. The machine is constructed as a whole, and the customer can produce after receiving electricity. Fully automatic crushing, feeding, vacuuming and separating. It can be produced by just one person. The advanced dust collection device and dry separation, the separated finished products can be sold directly. This model is the domestic advanced waste line separation equipment. Function: Control system: 1: Star-delta starting cabinet; 2: Motor thermal protection device; 3: Delay start protection function; 4: Vibration automatic control; 5: Wind power frequency conversion device control; 6: Cooling cycle in the grinder.
Characteristics of cable wire recycling machine equipment:
1>High degree of automation and easy operation method. (Manual or automatic);
2>The recovery rate is as high as 99%
3>The dry mill can produce copper with a purity of 99%;
4>The machine uses a long time (half long-term), only need to replace the consumable accessories;
5>The machine is cost-effective and can be processed with a large scale (the thinner wires can also be separated);
Tags:
If you have any requirement or suggestion, please fill in the form and send to us, or contact us by E-mail:sunymachine@gmail.com,thanks!