What are the things to pay attention to when buying wet wipes horizontal packaging machine
Time:2021-04-29 10:43 Author:Suny Group
Everyone knows what wet wipes are. Now we have almost every family in our lives, and the production of wet wipes is inseparable from the wet wipe packaging machine. In recent years, with the rapid development of the times, this new horizontal wet tissue packaging machine has been sold on the market. It is better than before in terms of quality and function, and has the advantages of small size and light weight. . In order for all consumers to buy the right equipment, what are the things to pay attention to when placing an order?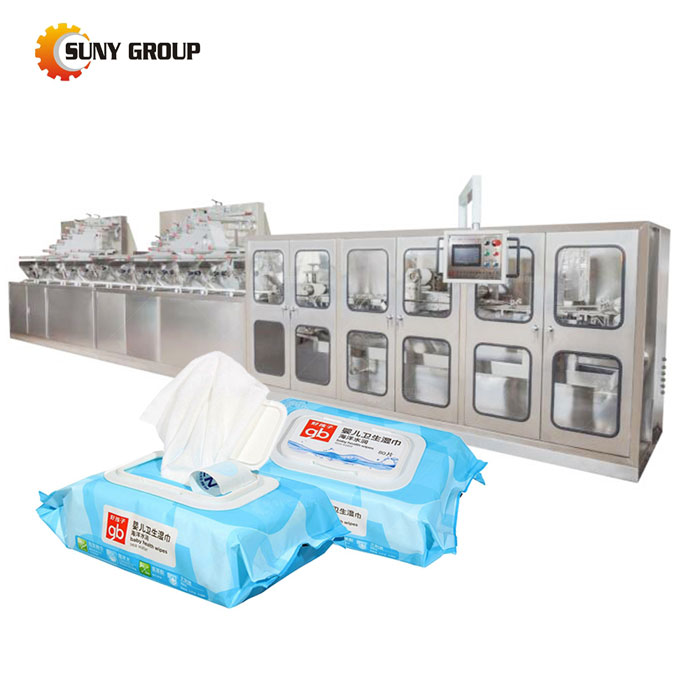 Wet wipe horizontal packaging machine is a new type of product now. Although there are many manufacturers selling in the market, as consumers, we must choose a regular and reliable manufacturer, so that the quality will be guaranteed. Because only formal enterprises can guarantee durability, reliability and safety. It is not recommended to purchase if some accessories are soluble in damaged ones. Otherwise, it will be easy to age, and problems will often occur during use. If you are looking for a reliable company to make purchases, you will basically use all the world's technology, the quality is guaranteed, and the customers are very trustworthy. Nor will you worry about other unpleasant things happening.
In addition, when buying a wet wipe horizontal packaging machine, there are many details to pay attention to as a buyer. For example, if you want to pay attention to the brand and quality of the vacuum pump. Because the vacuum pump is the core of the wet wipe horizontal packaging machine, you must be cautious when choosing. Regardless of whether you choose a large or small horizontal wet wipe packaging machine, the first concern is its price. In addition, we should also pay attention to the vacuum pumping ability of the vacuum pump. Of course, the bigger the better, this must be matched according to the working speed of the whole machine. In terms of material, it is also necessary to see if it is made of stainless steel. However, as long as it is a big brand company, they all use stainless steel. These are details, but they should not be careless.
In order for everyone to buy a horizontal wet wipe packaging machine that is cost-effective and no problem, then these precautions must be understood in advance, so that you will not spend wronged money, and it will not be easy to damage in the future. , I hope everyone can learn about it.
Tags:
If you have any requirement or suggestion, please fill in the form and send to us, or contact us by E-mail:sunymachine@gmail.com,thanks!