What are the characteristics of the single-chip four-side sealing wet wipe machine?
Time:2021-05-21 10:13 Author:Suny Group
This machine is a fully automatic machine for producing (1 piece/pack) of wet paper towels. The whole production process is completed automatically without manual work from the base paper on the machine to the humidified and wrapped finished product. Suitable for packaging: hotel wipes, airline catering wipes, health care wipes, etc.
Process flow: small non-woven fabric or dust-free paper machine → folding → humidification → slitting → product conveying → automatic bag making and packaging (back sealing) → coding → output of finished products.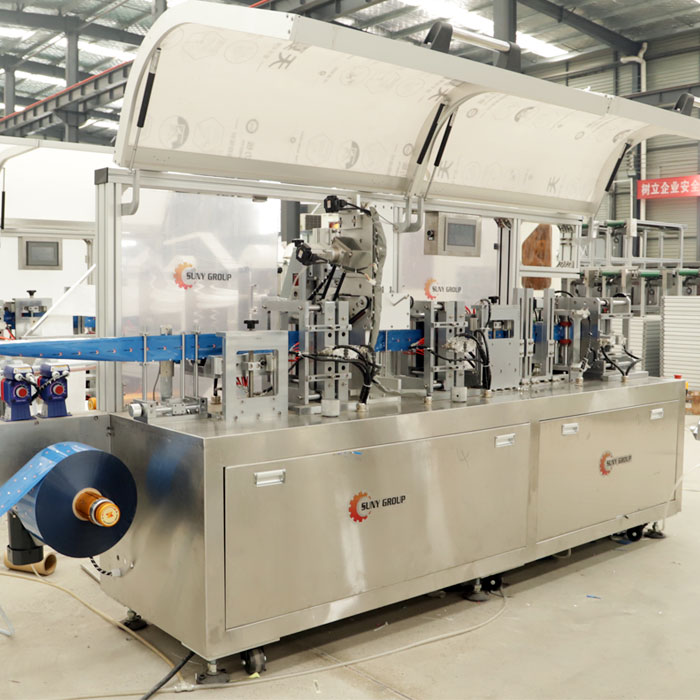 The main configuration and characteristics of the equipment:
1. The length and width of the wet wipes can be easily adjusted. At the same time, it has a variety of folding methods, which can produce wet wipes of different uses and specifications to meet the needs of the development of new products in the market. (The latest model has: adjustable folding width and multiple folding methods (Z, N, double Z, etc.);
2. The working surface of the whole machine is laid with stainless steel, which is sanitary and clean;
3. PLC control system, touch screen display man-machine interface, convenient and quick parameter setting;
4. Adjustable bag forming machine to adapt to different sizes of products (use our independently developed bag making machine for packaging wet wipes);
5. The bag length is set and cut immediately, no need to adjust the empty running, one step is in place, saving time and film;
6. High-sensitivity photoelectric eye color mark tracking, digital input of the sealing and cutting position, making the sealing and cutting position more accurate;
7. Independent PID control of temperature, better suitable for various packaging materials;
8. Positioned stop function, no sticking to the knife, no wasting of film;
9. R&D date/batch number coding machine. (Optional configuration)
Tags:
If you have any requirement or suggestion, please fill in the form and send to us, or contact us by E-mail:sunymachine@gmail.com,thanks!