Waste circuit board crushing, sorting and recycling method
Time:2021-05-21 10:16 Author:Suny Group
The green recycling and resource utilization of waste circuit boards is one of the hot spots that the industry and researchers pay attention to. With the continuous development and gradual exhaustion of primary resources, the recycling of secondary resources (especially urban mines) will definitely be on the agenda. And waste circuit boards are the main raw materials for metal recycling in urban mines. To make them effectively processed and utilized, they must first be dismantled. The fixing method, welding method, solder recovery and disassembly status of electronic components in the process of dismantling waste circuit boards are analyzed, and its development direction and trend are pointed out.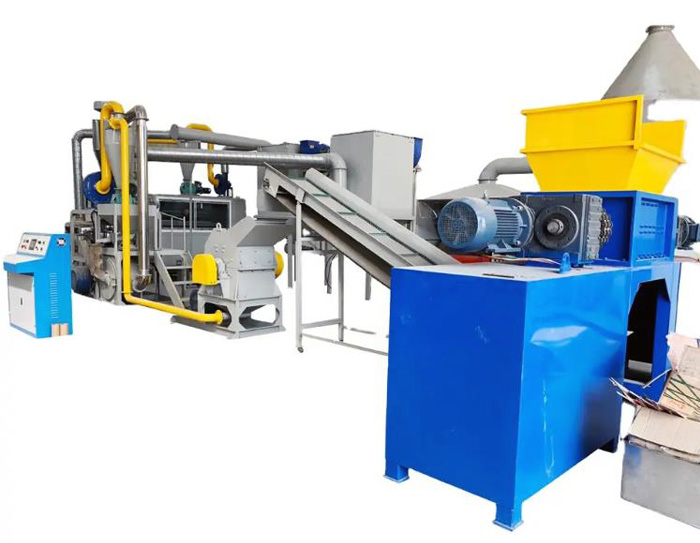 On the one hand, the discarded circuit boards contain reusable undamaged components, which can be disassembled and used in the manufacture of low-end product circuit boards, which will bring considerable benefits. On the other hand, the components that cannot be reused are made of different materials. Classification to realize the separation and recovery of electronic components, which can effectively control harmful substances and enrich valuable substances, which will greatly reduce the subsequent processing costs. The disassembly of electronic components on waste circuit boards has always been one of the concerns of the industry, and it is also a key step in the recycling and treatment of waste circuit boards. The general waste circuit board disassembly machine only uses heating or mechanical methods to treat waste circuits. The electronic components on the board are disassembled, and the effect is not very satisfactory, and pollutant gas is generated, and the electronic components are seriously damaged.
The common disassembly method is to first heat the circuit board as a whole. After the solder between the component pins and the circuit board pads is melted, the disassembly force is applied in a certain way. The vibration and friction on the circuit board substrate are used to make most of the components from The substrate fell off. In the case of the combined forces of the disassembly process, the disassembled components are reusable, and the integrated circuit chip is a category with high reuse value. Plastic packaged chips are prone to delamination during the disassembly and heating process of the circuit board, that is, the parts that are originally bonded between different materials are separated. After the delamination occurs, the reusability of the chip is reduced. Because of the main cause of chip delamination during temperature, the temperature of Runda circuit board disassembly equipment is controlled between 120°C and 160°C during the disassembly process, which is a good solution to the disassembly of various electronic components on the circuit board. And recycling issues.
Tags:
If you have any requirement or suggestion, please fill in the form and send to us, or contact us by E-mail:sunymachine@gmail.com,thanks!