What are the advantages of the monolithic wipes machine?
Time:2021-05-26 10:18 Author:Suny Group
Packaging is a necessary condition for products to enter the circulation field, and the main means to achieve packaging is to use packaging machinery. With the development of the times and the advancement of technology, the monolithic wipe machine is playing an increasingly important role in the packaging field. The main functions of the single-chip wet tissue machine are as follows: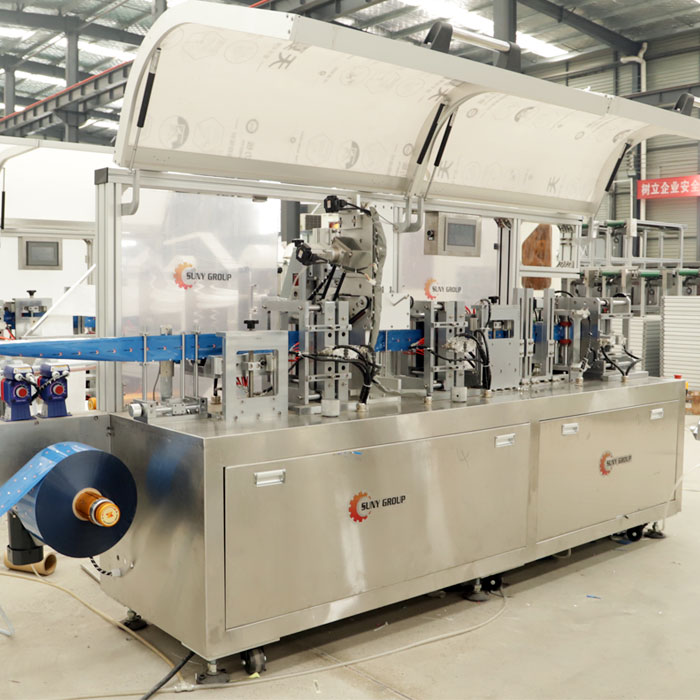 1. Monolithic wipes machine can greatly improve labor productivity
Mechanical packaging is much faster than manual packaging. The packaging machine can reach hundreds or even thousands of units per minute, and the work efficiency is increased dozens of times.
2. It can effectively guarantee the quality of packaging
The mechanical packaging of the single-piece wet tissue machine can obtain a consistent package according to the requirements of the packaged goods and the required size and shape. However, manual packaging cannot be guaranteed and is especially important for export commodities. Only mechanical packaging can achieve the standardization of packaging and meet the requirements of collective packaging.
3. The single-chip wet tissue machine can achieve operations that cannot be achieved by manual packaging
Some packaging operations, such as vacuum packaging, inflatable packaging, skin packaging, isobaric filling, etc. All these operations are not achievable by manual packaging, only mechanical packaging.
4. Monolithic wipes machine can reduce labor intensity and improve working conditions
Manual packaging is labor intensive. For example, manual packaging of bulky products consumes energy and is not safe. For light and small products, workers are prone to occupational diseases due to frequent and monotonous exercise.
5. Monolithic wipes machine is beneficial to workers' labor protection
For some products that seriously affect health. Such as dusty, toxic products, irritating radioactive products, etc., manual packaging will inevitably endanger health. Mechanical packaging can effectively protect workers from injury.
6. A single piece of wet wipes machine can reliably ensure product hygiene
According to the Sanitation Law, some products (such as food and medicine packaging) are not allowed to be manually packaged. Mechanical packaging will contaminate the product, so as to avoid direct contact with food and medicine by human hands, and to ensure hygienic quality.
Therefore, the production of wet wipes by the single-chip wet wipe machine is a very good choice. We are a manufacturer of single-chip wet wipe machines. If you have any questions about it, you can contact us. We will answer them one by one for you. Our products are of good quality, perfect aftercare services, and trustworthy.
Tags:
If you have any requirement or suggestion, please fill in the form and send to us, or contact us by E-mail:sunymachine@gmail.com,thanks!